I Can't Tell You—No, Seriously!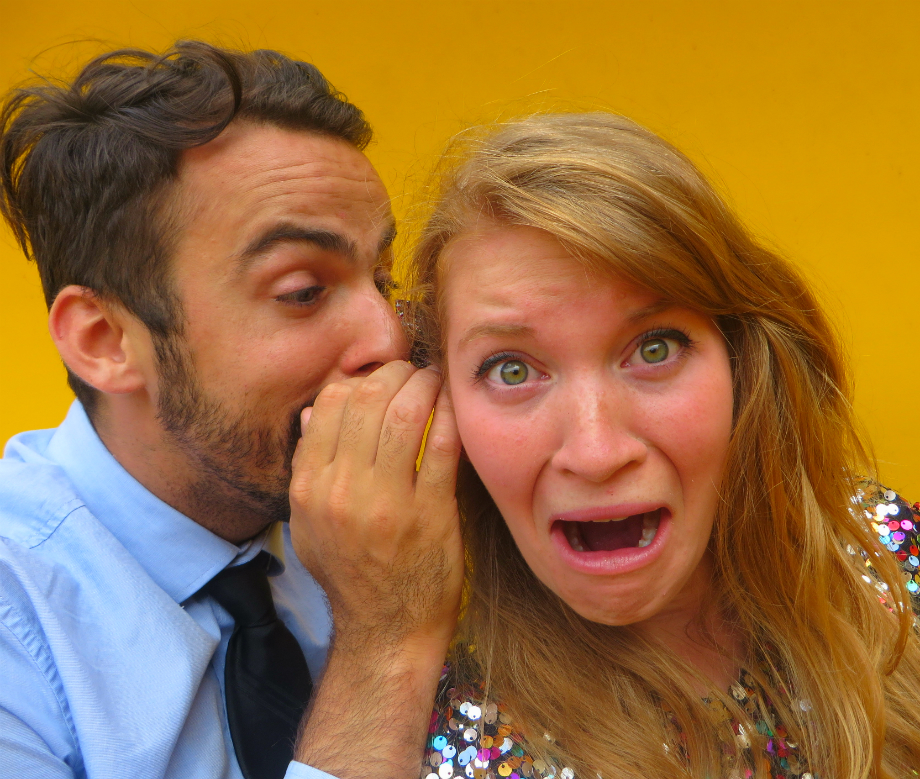 Troupers. That's what these two are. Troupers. The intimate setting of the Revue Stage, Granville Island, was even more intimate with the excited, jovial early bird Fringers, taking in an early show on festival opening. For an act that wasn't even on the program, due to a presumed scheduling challenge with the act that was supposed to appear. Ah, well, I think I lucked out. 
Vincent Leblanc-Beaudoin and Caitlin McFarlane brought their Victoria Fringe show to Vancouver on very short notice. Like, last Friday night kind of notice. I can only imagine what that must have felt like, both terrifying and "Oh, holy crap, we've got a show people will see more of, and spread the word!" Showing up on stage, bounding with energy, Vincent and Caitlin lifted the audience up and let us know what our part was to be—surprise! 
I'm almost grateful that the first performance did not include playbills. But never mind the paper, the stuff they brought with them worked very well. The duo effectively transmitted perspective and character changes. And we too knew our parts. 
Some terms that came to mind during the show: Interactive—yes, we would be participating!  
Cool before cool knew it was cool.
Even the placement of I Can't Tell You is meta-riffing on one of the works' probable influences, Abbot & Costello's baseball sketch. After all, until yesterday, I couldn't tell you who was on First. Congratulations. You ran a good show, and it's only going to get better as the run continues. Next show is Saturday, Sept. 12 at 8:10pm in the same venue, with other shows on Tuesday Sept. 15 at 5:15pm, then a late one on Thursday Sept. 17th at 10:10pm, with their final performance Friday Sept. 18th at 6:45pm. 
Check them out. You're sure to giggle, probably going to guffaw, and potentially have to fight down a blush or two.
By Bruce M. Campbell