I am the Bastard Daughter of Engelbert Humperdinck - Enge Loves You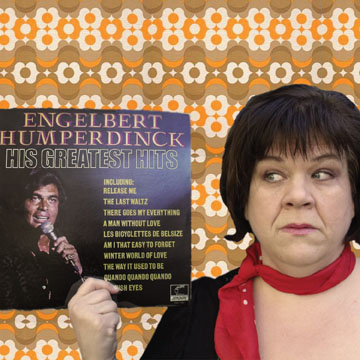 Bastard Daughter is the seemingly autobiographical recounting of Kathryn Kirkpatrick's childhood in Montreal as the daughter of the secretary of the Engelbert Humperdinck Fan Club – Montreal Chapter. This one-woman show tells the story of a period in time, when Enge is coming to Montreal, through a variety of characters within the family and the fan club.
I enjoyed learning a bit more about Enge, who until this play had always just been the name my childhood companions and I snickered at (do you know he changed his name to Humperdinck?!?). I also enjoyed the bevy of characters Kirkpatrick offered up. My favourite character by far was the narcoleptic sister; I could not help but see Kirkpatrick's feelings about her sister shine through the portrayal.  But ultimately, what I enjoyed most was thinking about the things, places and people we surround ourselves with to distract us from where we really are and how much value a group of individuals with shared passion can have on our lives. 
I may not have launched my panties at the stage, but I laughed, had a little cry and even joined the sing-along at the end.
By Kristina Lemieux