Hoof – Challenging the Audience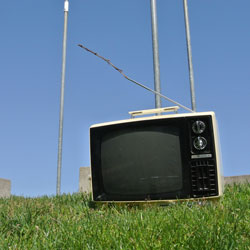 An abstract meditation on the nature of those with hooves, perhaps you require hooves of your own to truly appreciate this production written and directed by Elysse Cheadle. Inspired by beasts both domestic and mythic, hoof attempts to stand on its own four feet (or 10 feet if you count the actual number of feet belonging to its five female performers appearing onstage at the Waterfront Theatre). The show has physical theatre and abstraction aplenty but spoken text is largely nowhere to be found.
The five performers of hoof are as follows: Manuela Sosa as Manuella Sossa, Iris Lau as The Gliding Cleopatras, Victoria Lyons as Farmer Victoria, Linda Pitt as The Wylde Wheelcharion and Shannon Lee as The Centaur. Each one is doing fairly exquisite physical work — yet I am often unsure of their intentions. Without verbal clues, the audience is asked to draw its own conclusions about what's happening onstage (even the one monologue near the end of the show features somewhat nonsensical text). The humour of hoof emerges from the moments we do recognize what is happening onstage — such as cud-chewing cows or elegantly prancing horses.
Writer/director Elysse Cheadle studied at Simon Fraser University, which has a focus on interdisciplinary work, and she now trains in both contemporary dance and devised creation practices. hoof was originally created in 2013 as part of BLOOM (Mascall Dance's annual choreographic residency). For myself, learning that this work began as a dance piece was definitely helpful to understanding its strong reliance on movement rather than text to communicate meaning.
Throughout this show, the performers make the most of a simple set — they create strong images using only one easy chair, five folding chairs and a simple eight-foot table moved gracefully by the performers themselves. Music by Elliott Vaughn is minimal featuring a quiet soundscape at certain points in the show which intensifies the physical action. Lighting by Rui Su supports the movement of the performers and helps shape some of the imagery (particularly the square box of light which occasionally surrounds the large table).
If you're looking for a Fringe show with storytelling and a strong narrative, this is likely not for you. However, if you want to see something abstract that will challenge you to create your own story as you watch, then hoof may well appeal to you.
By Allyson Mcgrane