The Honeymoon Period is Officially Over: another feather in the tail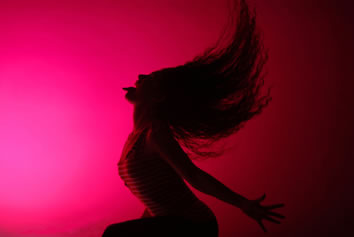 Victoria: You may have seen Gemma Wilcox downtown, a poster for her show raised up out of her back like a samurai flag, drumming up an audience for The Honeymoon Period is Officially Over. It's almost surprising that she has to work so hard to fill seats- and they were nearly all filled- given the substantial buzz already surrounding the show, to say nothing of just how amazing the performance itself is.
Wilcox not only wrote and directed, but also stars in the show- as three couples (four if you count the cat and hamster), a peacock, a little girl, a fire and several distinct chickens. The cast surfaces out of Wilcox at a protean pace, but always with remarkable clarity. The sizable non-human cast has a lot of heart to it and never risks going cheesy. As for the main attractions, we are treated to two years of our heroine Sondra and her stuffy husband Michael falling out of love. The good friends and old lovers orbiting the pair are what makes things so interesting, however. The script also explores the love lives of Sondra's aunt Crystal and ex-boyfriend Pete, with the good sense to confine each side story to their own act. The worries of the chickens and the beguiling narcissism of Hawthorne the cat liven things up in between. The comedy is constant but never abandons the sensitivity with which Wilcox wrote the play as a whole.
None of this would be possible without Wilcox's remarkable talent for mime. This runs from the mundane- such as opening cupboards, milking cows and painting walls- to show-stopping spectacles. Wilcox is just as skilled at gathering invisible eggs as she is laying them, or fellating an empty chair, filling all four seats at a dinner table or playing both sides of a cat and hamster showdown. She's also the meanest, most believable air-saxophonist to ever visit Victoria- seriously. Regardless of whether her character is getting from place to place or getting a rise out of the audience, Wilcox's skills fill the empty stage with a tangible world of houses and chicken coops and chainsaws and hamster wheels. Her bodily talents also translate into the subtler touches of her characters. Especially given the rapid pace of conversation, it's good to know that we can distinguish Sondra from her ex, Pete, by the crease of their brows and the cross of their legs. There's a rigorous polish to the staging that dazzles.
The Honeymoon Period is Officially Over may just add the 2009 Victoria Fringe as another feather in its peacock's tail of critical conquests. All in all, Wilcox earns her standing ovation and the heaps of praise the audience hummed with the moment their hands fell silent. There simply is no solo show like it anywhere else.
For showtime information go here.
By Christopher Felling