Hip.Bang! Improv - A Couple of Goobers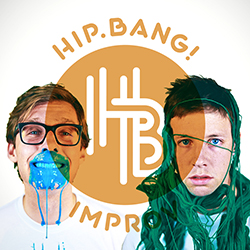 Improvising for 45 minutes with one suggestion and only two improv artists is a serious challenge, but Devin Mackenzie and Tom Hill make it work, for the most part. I prefer the quick changing action in a series of improv games. So if you are like me, this one act show might not live up to your expectations.
With two stories lines (or was that four?) and six characters, confusion of Shakespearean proportions abounds. Love triangles, poisoned mangos, and lunching on shrimp while sleeping against the backdrop of an opera kept both the audience and all six characters wondering what could possibly happen next.
Delighting in the first improv rule of cooperation, Mackenzie and Hill seemed fixated on challenging and pushing each into the most uncomfortable scenes possible much to the benefit of any ruthless audience. We laughed at the challenges they tossed at each other, grateful that audience participation was limited to making suggestions at the beginning of the show.
Both cooperation and tension intertwine leaving the audience to ask if they are friends, lovers, enemies or just a couple of goobers. Not willing to let any opportunity pass, they were both willing to play wholeheartedly allowing awkwardness, absurdity and laughter to reign.
By Melody Owen