Hip! Bang! Presents WHITE PANTS - Smarter Than Your Average Sketch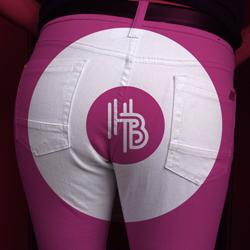 If you've ever seen any truly bad improv or sketch comedy, then this is a show for you. 
Creator/performers Devin Mackenzie and Tom Hill clearly know their way around a comedy sketch and have seen more than their share of comedy disasters. Perhaps because of the expectations that come with a show being at the Improv Centre, from the moment you come in there is a boisterous, excited energy running through the audience, which is a great energy to be surrounded by. The show opens with Mackenzie and Hill sitting in the audience, impatiently waiting for the show to start. When they finally step onstage, the audience is treated to a bizarre and hilarious dance number, with exactly the amount of grace and rhythm you'd probably expect from a couple of improv artists.
    
Then they begin the show itself, and moments later Hill has spilled a glass of wine on Mackenzie's white pants (which they are both wearing) and that's when you get a sense that there might be more to this that just your average sketch show. The lights are turned off, and we hear the two guys arguing about how to continue the show since all of their material was centred on the titular white pants, which have now been ruined. They finally agree to do an improv show instead, and that's when they really show their considerable chops as sketch comedians. The sketches are consistently funny, though only a few are truly hilarious. All the way through, the show is filled with self-referential humour and meta moments, so that it becomes clear that these guys are making fun of the terrible sketch comedy that is all too easy to find. They up the ante when, toward the end of the show, they finish their "B Material" as they call it, and are forced to scrape the bottom of the barrel. What ensues is a series of self-proclaimed 'bad sketches,' which are razor sharp in their mockery of the worst comedy you can imagine. 
One downside of the show is that it ran 20 minutes short of the 60 minute run time listed in the program, but it was a thoroughly enjoyable show. White Pants probably isn't the funniest sketch comedy you can find, but it may well be the smartest. 
By Julian Legere