High School Musical 2: lively and camp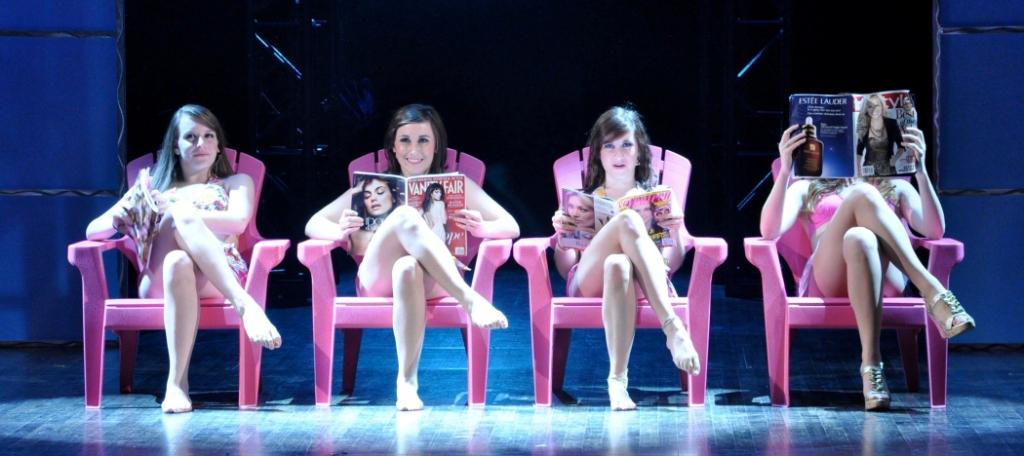 The curtains open to the backs of students sitting and staring at a large ticking clock on the far wall, waiting for 3pm to strike so they can start their summer vacation.
On this stark stage, large opaque panels lit in various colors cover the back wall. Tick tock tick tock. Three o'clock strikes, the students burst with uncontrollable energy, the back panels slide open to reveal a live band situated on multi-levels, the chairs disappear and the musical launches into a frenzy of youthful liveliness and excitement over the freedom of summertime. This is opening night at Centennial Theatre of URP's High School Musical 2.
Bursting with enthusiasm this outstanding cast of young people, bounce out a fabulously fun production of High School Musical 2, which I and my 12 year old daughter think was more enjoyable and amusing than watching the movie. As a Disney Production - bring along your 3 year old daughter or your 75 year grandmother - the story is safe enough for all to see. 
A tale that doesn't extend into heavy content – good girl Gabriella (so sweet and understanding) and selfish rich girl, Sharpay (jealous of little ole Gabriella) does everything possible to steal the heartthrob boyfriend, Troy – is light and refreshingly asinine (if you are into that kind of thing). Of course there are a  few mishaps and set-backs along the way concerning Troy and his decision making choices but not to worry, in the end, they all come to their senses, even Sharpay, and everyone rejoins as friends again. If you can just let go of the silliness of the story and embrace the campiness, it's pure mindless fun. Thankfully the script pokes fun at itself which helps to lighten the absurdity. "You guys are killer sight readers" (didn't catch who said this), after the entire group instantly memorizes the words and steps to a new song which Kelsi (the young piano playing genius) just happens to throw together. It's a fact that you can get away with that in Musicals anyway.
The cast really pulls it off, everyone in full high-spirited character, albeit one dimensional, you love them all. The two leads Scott Perrie (Troy Bolton) and Shannon Adams (Gabriella – why doesn't she have a last name?) carry their songs beautifully. I even had a tear in my eye during the piece You Are the Music in Me as they seized the opportunity to show off their true singing ability. Chad Danforth playing Aaron Lau definitely stood out for me. He is a powerhouse in both movement and voice and I felt myself divert to him every time he was on stage. He particularly pumped it up in I Don't Dance.
Excellent job done by Shelley Stewart Hunt on the choreography, every scene is an original unique composition. The group choreographed pieces are terrifically entertaining, using levels and a number of times bringing it right out to the audience.
Top of the list was the lighting by Rob Sondergaard. Every scene is carefully composed of colour and effects truly heightening the overall production value. What a job! Especially loved Bet on It sung by Troy, which totally rocked the stage.
A few areas could be tightened where the timing was a little slow, and one of my favourite songs Fabulous, although choreographed and lit wonderfully, could be toned up in energy and sound. All this can be easily remedied over the next few days, running until November 22, they have plenty of time to fine tune.
Luckily for us musical theatre fans, there is resurgence in this creative medium. The dancing, the singing, the energy, it all gets my blood pumping and my inner child awakening. I had a great time. My daughter had a great time. My friend from Mexico had a great time. What more can one ask for? We left the theatre smiling, singing and bouncing out the door.

High School Musical 2 continues until November 22nd at Centenial Theatre. For more information check this out.
 
By Lianna Walden