High Life: Violent Comedy Lacks Punch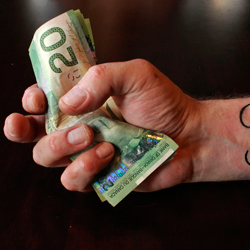 Lee MacDougall's comedy caper High Life, presented at the Cultch as part of the Fringe Dramatic Works Series is the kind of play that would make Martin McDonagh (In Bruges) or Tracy Letts (Killer Joe) very proud with its witty portrayal of scheming criminals. Unfortunately, this production doesn't do justice to the excellent script. The writing has a very particular style, and it demands a certain vocal agility to capture the repartee. In the opening scene Dave Evenson and Marcel Perro, as longtime partners-in-crime Dick and Bug, speak the dialogue at a jarringly uneven pace, not quite making it up to the snappy speed that is required to make it work. That said, they both do good work giving us a sense of the seediness of the characters they portray. 
    When Dylan Coulter appears as fellow addict and small-time con man Donnie, we finally see someone pulling off the snappiness of the dialogue, while also embodying the nervous, sickly character to great comic and dramatic effect. The final member of the ensemble, RJ Fetherstonhaugh, as pretty-boy hustler Billy, is an excellent contrast to the other three with his smooth talk and easy charm. 
The play centres on Dick trying to get the other three on board with what he describes as a risk-free, easy job to get their hands on a lot of cash, while attempting to hold the scheme together despite the histories and tensions that have them all constantly at each other's throats. The show has plenty of laughs, and the cast does a great job of selling the dysfunction of the characters' hesitant alliance, but without the nimbleness that the writing demands, the tension never builds to where it should be considering the darkness of the subject matter. 
Evenson in particular is constantly stumbling over his lines, and Perro seems to be always searching for his, which results in the suspense being unintentionally released every few minutes. These issues create a slow pace that doesn't allow for a proper build, causing the show to have a monotonous tone of light comedy with none of the violent intensity that the play demands. Thus, when it finally reaches its climax, the audience is left thoroughly underwhelmed. It's good for a laugh or two, but Husky Guy Productions' High Life is far from a fully realized production of this great play. 
 
By Julian Legere