The Haunted Hillbilly: a zany gothic country romance musical, with vampires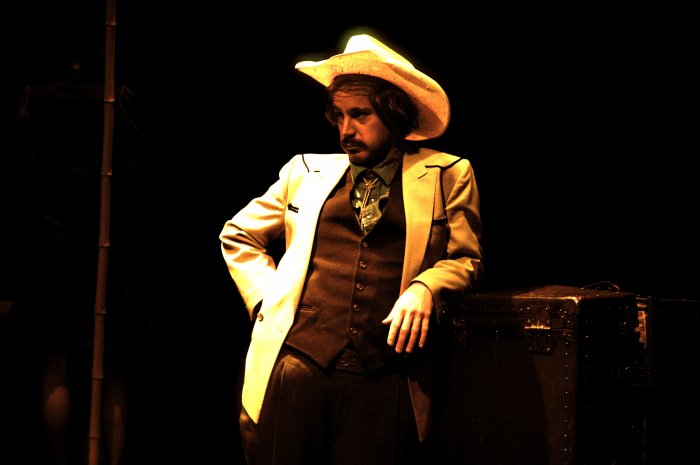 Despite the title, there are no ghosts in The Haunted Hillbilly (currently on at SummerWorks); however, there are plenty of hillbillies, along with a three-piece band, dazzling outfits, bits of stage magic, a rhinestone-studded prosthetic leg, and at least one paraplegic vampire.  Montreal's Sidemart Theatrical Grocery may have gone a bit over the top in their adaptation of Derek McCormack's novel, but boy howdy, they had themselves a rootin' tootin' good time doing it.
Adapted by Graham Cuthbertson and directed by Andrew Shaver, The Haunted Hillbilly is a gothic love story set in the deep south and populated with colourful cast of caricatures- er, characters. Matthew Raudsepp stars as Hyram Woodside, a fresh-faced country singer whose rise to stardom is interrupted after he marries his wife Audrey (Gemma James-Smith), thus throwing a monkey wrench into his popular heartbroken, lonely boy reputation. Salvation comes in the form of the mysterious Nudie (Greg Kramer), a wheelchair-bound purveyor of haute couture for the country set, peddling dazzling outfits that push Hyram back into the spotlight. Oh yeah, and Nudie is also a vampire.
Rounding out the cast are Alexis Taylor as the bright-eyed Bobbi who catches Hyram's eye while his marriage is in the dumps, Daniel Brochu oozing sleaze and cowardice as Hyram's predecessor in the limelight Erskine Mole, Cuthbertson himself as the dulcet-toned tonic-peddler Pastor Ray, and Kyle Gatehouse as Dr. Wertham, Nudie's silently-suffering stiff-shouldered Igor. The whole cast careen through a gothic drama of love, betrayal, fashion, music, and the consequences of fame with such infectious zeal that it's perfectly easy to overlook the absurdity of the storyline.
Matthew Barber deserves appropriate accolades as musical director for the project, composing several toe-tapping numbers with earnest country twang (one of which is entirely about the Clap). The cast are all talented singers, complimenting the tunes with their energetic physicality. Susana Vera must have had a field day on costumes, stitching together the gregarious sequin-smothered outfits that Nudie concocts for Hyram.
The whole performance suffers from a minute thematic identity crisis, the curtain falling with some plot points resolved haphazardly and others not at all, but the experience is so enjoyable it's an easily forgivable shortcoming.
The Haunted Hillbilly is part of this year's SummerWorks Festival for more information get yourself down here.
By Ryan West