(in) habitat: space to dream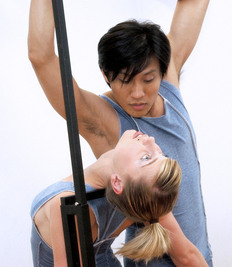 (in) habitat takes us on a dreamlike adventure with two wonderfully talented dancers; Tara Dyberg and Chengxin Wei. Their undulating bodies in the opening are a testimony to the incredible muscle control and strength these two dancers possess.
Whirling around the stage in unison, inches from one another, or intertwined, we are entranced by their innocence and form. This is a discovery of space through the use of imagination, and the ride we embark upon is one of enchantment.
Based on the writings The Poetics of Space by Gaston Bachelard, a French philosopher in the 1950`s, home becomes more than four walls, but a metaphor for who we are and what we believe. 
A nest for dreaming.
A shelter for imagining.
Gaston Bachelard was revolutionary in his exploration of space and the meaning behind it. The choreographer of (in) habitat, Joe Laughlin, has created a beautifully touching piece that explores the body extending and weaving into the space of imagination and surroundings. With exemplary lighting effects and music to match, the mood flows with the movement and the emotion of the dancers.
Working with straight and angular metal pipes that connect in various formations, the dancers commence by ignoring the haphazardly placed objects, only then to discover each item piece by piece. They then seamlessly create patterns by connecting the pieces, seriously then playfully, discovering their uses as structures to anchor or encase.
The use of large white parachute-like material, with the creative use of lighting, manifests a wonderful scene of the two dancers soaring in and out of the flowing white backdrop.
Through most of the piece I was entranced by the creativity, following along with their explorative imaginations and whimsical creations. It is all about dreaming and imagining, nothing wrong with that, nothing at all.
(in) habitat presented by Joe Ink and the Firehall Arts Centre as part of Dance in Vancouver continues until October 17. For more information dreamhere.
 
By Lianna Walden