The Great Canadian Tire Money Caper - Simple, Yet Satisfying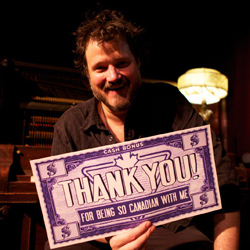 Folk singer and storyteller Corin Raymond brings warmth and wit to his autobiographical one-man show The Great Canadian Tire Money Caper, which tells the true story of how he paid for the making of his 2013 album Paper Nickels with Canadian Tire Money.  Right off the bat, Raymond sets up the casual, folksy charm that largely defines the show. From his blue jeans and slightly-ruffled-rolled-up-to the-elbows-dress-shirt to his off the cuff performance style, we might as well be sitting on his porch with a can of ice cold Molson Canadian as he tells his tale. Caper is filled with gentle comedy, of the kind the relies very little on punchlines and more on heartfelt honesty and just the right amount of self-deprecating charm. Not relying on flashy theatricality, Raymond captivates the audience purely with the openness of his stage presence, inviting us along rather than commanding our attention. Although this charm is clearly authentic at it's roots, there are occasional moments where he slips and allows the craft to show through, overselling the 'folksy' quality just a bit too much, such as when he impersonates his bandmate doing the twist while performing their Canadian Tire Money Song, though these moments are few and do little to mar the overall effect.
    Raymond starts his story by talking about his first foray into performance when, as a teenager, he taught himself to juggle and spent the summer busking on Ottawa's Spark street. The heart and depth of the story first start to show through when he talks about dumping his hatful of money on his grandmother's kitchen table so the two of them could count it together. He describes the childish glee with which she enjoyed those moments, contrasting them with the pressure she put on him to get a "real job" as all of his cousins had done. With this sequence, he establishes the recurring theme of the show, which deals with the value of money earned doing what he loves being so much more than it's face value. It's far from an innovative theme, but he explores it with individuality and affection, and touches on it throughout without being overbearing.
    From there, he takes us very plainly through The Caper in a largely episodic fashion, from the moment he first learned that the Rogue Music Lab would accept Canadian Tire money at par, through YouTube videos, national news coverage, and the hundreds and hundreds of stories that donors shared with him, to the final triumphant moment when he handed a suitcase full of Canadian Tire Cash to the Rogue's Ron Paul. Every story makes full use of Raymond's wit, and has plenty of heart to fill this delicate piece of simple storytelling.
By Julian Legere