Grandma Noda's Tigers: tigers and lines and cheers, oh my!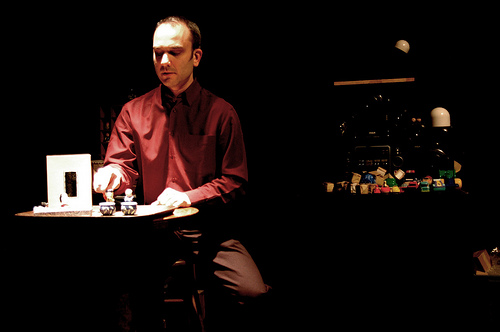 It's always a treat when adults and children alike can find joy in a live theatrical production, and Grandma Noda's Tigers certainly delivers with this inventive and delightful piece of theatre currently on as part of the Uno Festival.
This is the story of a Japanese businessman who dreams of expanding his empire - but his grandmother stands in the way. The play is told using puppets made of found objects…a method referred to (fittingly) as Found Object Puppetry, and it is quite an innovative way to express this memorable tale.
Performed and co-written by Chris Little (who co-wrote the play with his wife Regina FitzGerald), Grandma Noda's Tigers uses this unique style of puppetry to engage young and old audience members.  The puppetry is only part of the charm of this piece, however.  A live "orchestra" and clever use of modern technology add to the production in ways that one would not expect.  The direction by Theo Pitslavas brings all of the elements together very well.
I'd advise sitting as close as you can - I sat in the front row and was able to see every element of the production clearly.  I'm not so sure what the situation would be further back.  Had the set (composed of cardboard boxes, an array of suitcases and more) had been placed further upstage it would give the rows further back a better view.  Since this show is in the Intrepid Club (which it really has to be due to the nature of the puppetry method used), seating is limited and I'd get there early to get the best seat you can. I also have to wonder if those further back had difficulty hearing Little at times, partly due to volume but also due to the audible "hum" of the venue itself.
This solo show is a tremendous achievement…and knowing that it had been billed as family-friendly, I brought along my five-year old daughter.  As the show let out, I asked her what she thought.  Her words: "It was cool!"
If that wasn't enough of a ringing endorsement, she was still talking up the play later on.  All the more impressive, when you consider we saw the latest Shrek installment later that evening.  When theatre can capture a young child's imagination more than a "beloved" movie character (in 3D, no less), you've got something magical happening.
Grandma Noda's Tigers is not to be missed - it's a real treat for the senses.
Grandma Noda's Tigers is part of Victoria's Uno Fest. More information on the show by pulling some strings here.
 
By Mike Vardy