From Grandma's Attic: A Trip Down Memory Lane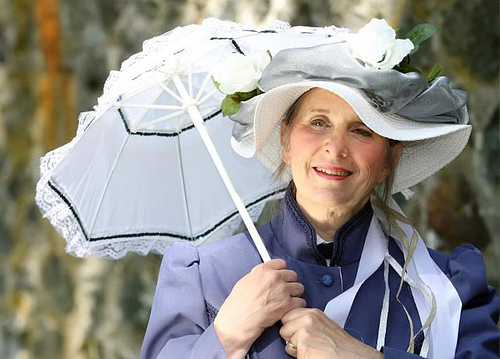 Watching From Grandma's Attic, I wanted to feel nostalgic, as it's not only in old age that we look back on our lives. Barbara Eadie plays Bea, an elderly woman who reminisces and connects with her memories through song.
This hodgepodge of isolated memories is slapped together to create a weak piece. Unfortunately the strength of the music does not overcome the weakness of the acting. Some songs such as "Mighty Lak' a Rose" were beautifully moving and heartfelt, while others like, "I don't want to play in your yard," were fun and had a bubbly, musical theatre feel. Jane Edler-Davis's piano playing helped Eadie's singing to strike a chord with the audience, and the first seven songs were enjoyable. But alas, I wanted Eadie to stick with her songs and leave the acting out of it.
The often cheesy brief words between numbers were repetitive and had me wishing Eadie had chosen between a concert and a play, and if singing is her forte, well then, some musical numbers would have sufficed nicely in this festival. In that case, she wouldn't have had to fidget with her costume so much or worry about a younger crowd not enjoying this cheesy festival piece. Like I assumed, the audience was made up of mostly people over the age of 65, and in the first few songs I could hear some audience members softly humming or singing along. But as the show commenced, the humming died down and left the front of house with some closed eyes and fidgeting with watches and purses.
The lighting was discrete and well done, and the costumes did punctuate her important moments in life. I just wish Eadie had found an apron that she didn't have to continually fix, and had taken a breath of pause and a moment to dwell on a memory. Eadie packs a lovely voice (evidently years of experience), and only near the end did it begin to grow tired.  "From Grandma's Attic" was what I expected, rather than surprising me with freshness and sentiment.  I didn't expect acting or a great script, just some lovely singing, and that is exactly what I got.
For show information go here.
By Alina Cerminara