Gospel of John: a revelation on to its own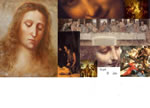 There are many churches, halls and meeting places where people go to study the Word; most of the time you are there, reading passages and trying to find some deeper meaning.
I think stories from the Bible are actually great stories. They are like Greek myths or legends from a far off place in time. There are lessons to be learned, but they are entertaining nonetheless.  Many of the great classic movies in our culture are Bible based.  So to see a Fringe-show also draw from the Bible was refreshing. It was a new experience for me to view an old and resonating story in a different medium.
The Gospel of John is in fact the actual account in the Book of John. The introduction is straight out of the first Chapter and continues through to Chapter 20, with only minor omissions.
When I was watching the show I imagined myself by a warm fire. We watched and listened as the storyteller acted out and recited the events with voice, poise and presence, to such a degree that it felt like a personal account as if he had witnessed it all with his own eyes.
Another thing that I liked was there was no feeling of being preached to. I know many people do not like it when they are pushed to believe something or to read something that they are not interested in. However, if you are interested, the Book of John is a quick 20 minute experience.
For showtimes, seek revelation here.
Did you see this production? Tell us below what you thought.
 
 
By Victor Terzis