Goggles: wonderfully strange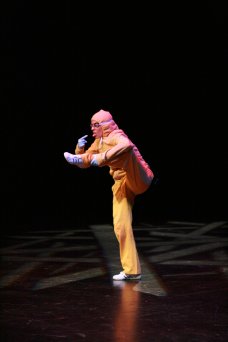 Goggles is a powerful combination of drama and dance. Performed and created by Tara Cheyenne Friedenberg, she skillfully displays not only her dance training, but also her wider expressive physical vocabulary, her sense of comic timing, and her ability to weave these together with dialogue.
The story cuts between the fantasies of an eight year old boy, Norman -- who envisions himself as a crack detective solving murder mysteries -- and his more pedestrian "real world" encounters with his emotionally distant father and his father's conventionally-minded girlfriend, a conformist church group, and a despotic babysitter who locks him in the basement. It is a story with many dark twists, but at its core is Norman's battle for freedom of expression.  
Goggles is a wonderfully strange piece of performance.  Young Norman is excessive, eccentric, and over the top.  By inhabiting this brilliant and troubled character and by pushing the limits of text and dance, Friedenberg creates a kind of outsider manifesto. Goggles is a story about the power of fantasy and creative expression to liberate the human spirit, and Friedenberg delivers its message with wicked wit and a refreshing lack of sentimentality.
On November 20th, in a telephone interview, I asked Friedenberg a few questions about the creation process behind Goggles.  Here is what she had to say:
KM: Where did Goggles begin? How did you start to imagine bringing such a macabre topic as murder investigation into a dance performance? 
TCF: I'm fascinated with my own interest in true crime shows like CSI; British crime drama, etc. I think to myself "this is awful, why do I watch this, what is the compulsion?"  I think that for us in the West, the stories that we tell allow us to look into the dark side. They let us look at our fears but they also let us watch as order is restored and things are made right. My director observed me during improvisation and she was the first to identify a character emerging in my work related to this theme. During the creation period we didn't impose any limits, we just followed the threads that were emerging, we let ourselves discover.
KM: The physicality of you performance is wide-ranging and often humorous. Who are your influences in this respect?
TCF: In terms of contemporary dance, I admire Pina Bausche.  Denise Clarke of One Yellow Rabbit has been a mentor, especially when it comes to working with both movement and dance. I also admire comedians: Martin Short's physicality; Carol Burnet; Lucille Ball...and Steve Martin -- he has a physicality that is like dance; he has an ability to make the very small seem huge.
KM: Norman takes refuge in crime drama fantasies -- why is he drawn to such dark subject matter? 
TCF: Norman is a young boy, he has asthma, he's different, and he's been rather emotionally abandoned by his parents. He works out his issues through his imagination, through the template of crime drama. He uses his imagination to ground himself and give himself a sense of security. I think his story also shows how easily people become isolated and leave each other to deal with things on their own.
Playing a character like Norman, a young boy, gives me empathy for his situation. It also allows me to come at ideas from an angle that is different than if he were a young girl, for example. He has a different perspective, and taking that on can be liberating. Working through a character fiction character allows me to explore personalities that are very different from my own experience.
KM: What is the relationship between performance and text in your work?  How does a dancer tell a story?
TCF: Body language and spoken language originate in a physical place, but they can often contradict each other. Words will say one thing and physical movement will often put a different spin on it. As a dance artist it is really powerful to use language open the doors for the audience into the piece, and then to drop in the more abstract movement. I enjoy the interplay between dance and writing. When I started to use talk and dance, it was like, can I do this? But as an artist you can do anything you want. You learn your craft well, and after that it's all tools in your tool box.
Tara Cheyenne Friedenberg performed Goggles at The Cultch from Nov 17-21, 2009.  The piece was also showcased in an abbreviated form in July 2009 at the Dancing on the Edge Festival.  To read a review of that performance, go here.
By Kirstie McCallum