God is a Scottish Drag Queen II – God's back & is funny as hell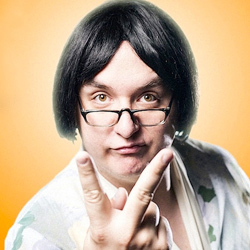 Mike Delamont is one of Canada's fastest rising comics due not in small part to his creation of the God is a Scottish Drag Queen trilogy. This year Mike brings God is a Scottish Drag Queen II to the Vancouver Fringe Festival & God is a Scottish Drag Queen III to the Fringe's Pick Plus on Sept. 26.
God (Delamont) appears to his audience with a short black bob, wearing sensible shoes and a mauve power suit. God brings it to the stage with all of the spectacle of a Joel Osteen Mega TV Church episode – large banners with God's Shining Face, A giant Video Screen, Sound, and Lights but with way more laughter. A welcoming host, God attempts to enlighten us and share her infinite wisdom. She covers topics that include circumcision, Mormons, Scientology, Noah's Ark, churches, and so much more.  My favorite parts of the show were "Sexy Bible" and the Revelations Drinking Game…makes you look at that book a bit differently. Not all of the jokes are biblical as God tends to wander off and discuss other things that cross her mind, which is her prerogative as she is God and she is hilarious.
You might be thinking "Do I have to have seen #1 to understand #2 or #3?" The answer is no you don't. This is stand-up comedy and it stands on its own as funny.
Do I need to be a Christian or do I need to have read the Bible to get the humour?  Again the answer is no.  I would recommend this show to people who have read the bible, those that pretend they have read the bible and even those that have only seen a bible in the drawer at the Holiday Inn. Whether you are Catholic, Protestant, Muslim or Jew there is laughter to be had spending an evening with a Scottish Drag Queen God.  That said, if you are a big Kim Davis supporter I'm not sure this is the show for you.
If there are any tickets left for this show I would grab them now for a fun, funny, laughter filled evening with God.
By Jason T. Broadfoot