The Gas Heart: the awesome rush I've been looking for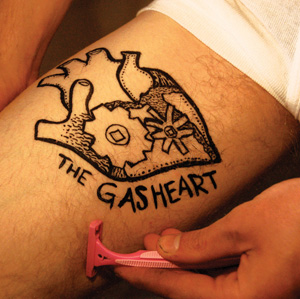 Ways to describe The Gas Heart:
An upper - when the ride ends and you leave, you gett withdrawals and you wanna run back to your seat and take another hit.
It takes me to a happy place...hee hee hee
In one word I can summon up this show: Give me more..more..more!*
Not only is The Gas Heart awesome, it so fresh, young and tight you wanna spank its ass till it gets purple. If that sentence or the rest of my gibberish make you laugh or give you some kind of WTF, TMI, OMG-ICBYJST reaction, its nothing compared to the excellent writing (Tristan Tzara) and direction (Quinn Harris) this show has to offer.
Split into 3 amazing fun filled acts the Gas Heart is totally in the NOW with its crazy surrealism, pop culture references, high energy angst and a wicked group of young, vibrant talented cast:
Chris Cochrane a.k.a Neck – Wicked
Evan Frayne a.k.a Eyebrow – Wicked
Timothy Johnston a.k.a Eye – Wicked
Amitai Marmorstein a.k.a Nose – Wicked
Maryanne Renzetti a.k.a  Mouth – Wicked
Katie Takefman a.k.a Ear – Wicked
And the dude on the bike. You're wicked too.
Each performer hits it home with their individual and group effort. I wonder if these guys are gonna be like the next version of Kids in the Hall. Is that too big a compliment? I don't think so. You guys work so well together and I hope everyone in this production deserves whatever good karma is coming to them.
Ok…um where was I? Oh yeah…
No names, they all are different body parts which you decipher by the writing on their forearms. Names are useless here. Logic is useless. It is pure hysteria; laugh out loud action and fun at its finest.
There are skits within skits and songs and funny shit going all over the place it overloads your reasoning. The only way to make sense of it all is to have no sense at all. I could write specifics, but I will not…nope nope nope!! You know why? Because I want everybody to see this show. Well, everyone over the age of 14. View discretion is advised. The Gas Heart is my pick for best show this year at the Vancouver Fringe Festival.
Oh man…I need a smoke…
Um, okay, if you would like show information go here.
If you think Victor is on to something rather than just on something let us know below.
*Ed's note that's actually five words but we'll let that one go.
By Victor Terzis