Gary Jones: Ask for Details - Offers Answers to Those Who Listen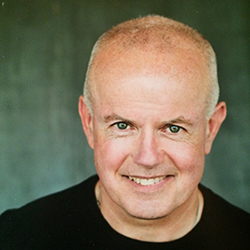 For the 2016 Vancouver Fringe Festival, the venues include the Rio Theatre. What does that mean, you ask? Well, when I enter the venue with only three minutes to spare, I get the very civilized reminder that I could indeed take my drink into the theatre. And when I stroll in for a one-man show by comic Gary Jones, all I smell is popcorn. As the pre-show music plays, I close my eyes and imagine the taste of buttery, salty popcorn happiness. I hear the murmurs of others in the theatre which stop abruptly when the Fringe announcement starts.
Gary Jones enters to applause - he's wearing sneakers, blue jeans, a red shirt with horizontal navy stripes, glasses and a straw hat with a short brim. It's a classic stand-up comic set with a microphone stand centre stage, a stool and a bottle of water. Jones announces it's a one-man show, that he's 58 years-old and proceeds to tell us a brief anecdote about asking for details of a coffee and chocolate bar promotion at a local gas station. His storytelling approach is genial, laidback and charming.
For much of this show, Gary Jones takes us back to his childhood in Wales to tell us about how he began improvising and telling jokes. We learn about his Welsh accent (described as a combination of Klingon and choking), his unsuccessful excuse for playing hooky (that his brother had a stroke) and his mother (who suggested he attend college for business administration). By offering us tidbits and details of his life, we begin to understand who this man became by learning who he was then. This performance is directed by Shawn MacDonald who is also directing Morgan Brayton in her solo show Give It Up.
If you're looking for an amusing and nostalgic evening, Gary Jones: Ask for Details might just be your ticket this Fringe.  
By Allyson McGrane