Fruitcake: more cake!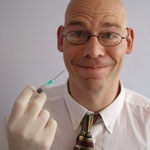 Victoria: Too late an addition to make it into the hard copy version of The Fringe flyer this last minute replacement show might just be this year's best Fringe success story. After just two shows Rob Gee's Sunday night performance at the Victoria Events Centre was close to capacity, and one suspects the rest of his run will be turning people away at the door. So book your tickets now, get there early, do what (or who) you have to do, but don't miss out on a piece of this Fruitcake.
What makes this show so good? Simply put, Rob Gee, one of the most amiable performers you'll ever have the chance of seeing, loves to tell stories, and the stories (as far as we know, all of them true) he tells are hilarious. Fruitcake's sub-title is "Ten Commandments from the Psych Ward", and the promo pick is a grinning, bespectacled, bald-headed Gee, in shirt and tie, holding a syringe in his surgically-gloved hand as if to say "Time for your medication".
Gee, it turns out,  once worked as a nurse on Psychiatric Ward, and these are stories from the night shift in the land of the insane, so he's got a lot a great material to work with here. What takes that and turns it into an even greater show is Gee's affable manor in telling the tales. Simply standing alone on stage (no props or costumes) Gee strips story-telling down to it's very basic component until it feels like he's an old friend who's met you in the pub after work, pulled up a chair, sat down, ordered a drink,  and said, "You won't believe the day I just had", then proceeds to tell you horror stories of hilarious proportions.
And don't get me wrong, although Gee is getting huge laughs with stories of the mentally ill, there doesn't seem to be a mean bone in this man's lanky body.
Even when telling horrific tales of madness and mutilation there is a compassion for his fellow human beings that shines throughout Gee's performance.
And seldom have I seen a performer who seems to be so thoroughly enjoying himself on stage. His enthusiasm is as honest as it is infectious.
In fact, the only contrived bit of theatrics in Fruitcake seems to be the disembodied recorded announcements of each of the commandments, which frankly, was not only distracting, but distortedly loud. (Note to sound tech- turn that sucker down).
Gee even ends Fruitcake with a happy/goofy song and dance.
Bless his bald head.
More cake anyone?
For show information go here.
By Paul McKinnon