Following the Sun: Not Suitable For All Ages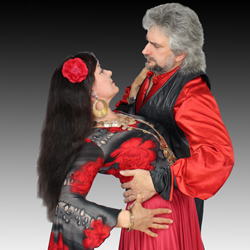 I went in hoping to learn about gypsy culture. I left hoping it wasn't true. Following the Sun has some offensive scenes, particularly for an all ages show. And there are two kids and a dog in the production (thankfully not in the same scenes). If you are a feminist or even just forward thinking, you may want to catch something else (I recommend Peter and Chris, Nashville Hurricane, and TJ Dawe. If you have kids, perhaps the Wonderheads). 
Many scenes overwhelm with an exceedingly male dominated and misogynistic tone. Several times in the production, women are sexually assaulted by creepy old men and are more than fine with it after being given jewellery. And the writer and directors are female. 
The company seems earnest and well meaning. The show is primarily a dance piece. There are moments that feel unintentionally campy so fans of that may be interested. The themes, choreography, and music (though enjoyable) could benefit from more variety and range. The costumes are colourful and detailed. It has a community theatre feel. I appreciated the large cast and it did have a bit of a family feel with such a diversity of ages. The kids were enthusiastic. A dramaturge and further training could help the company fulfil its mission.   
By Jim MacDonald