Felony - Leave Your Morals at the Tent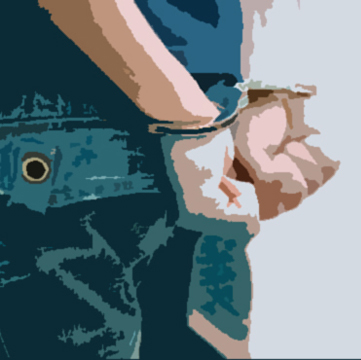 I have no idea how to review this performance for you. But go see it immediately, seriously right now, go book your ticket! It will sell out every night. Your group begins to gather by the tent, at this point everyone is already watching their bags. The paranoia begins, your heart rate increases.
Your Fringe volunteer walks you toward the Big Yellow Crane and begins to tell you a fascinating story about the drug smuggling and bootlegging that used to happen on our sweet little island. You half listen as you approach a very imposing man in a hoodie, hands in pockets. You pull your bag a little closer, check your back pocket for your wallet. The man who you assume is the criminal you are about to follow, pulls down his hood and he is gorgeous! He begins to introduce himself around the group, shaking hands with each person, your eyes follow those quick hands, and you begin to think the good looks, bright smile and easy attitude might just make you drop your guard and trust him.
So begins Felony by Allen Morrison. I don't want to give away too much about this performance, because you really need to see it to feel it. Allen brings you in to his world of pick pocketing, vandalism, and theft. He'll teach you how to be a pick pocket complete with terminology and what to do if you get caught. At the end of this performance your heart will be racing, your face flushed and you will be shocked at the things you have done.
This is an Onsite Show, and as such, the performance has been created by learning the history of Granville Island and using it as inspiration, so you get a few nifty nuggets along the way. Allen's performance is so genuine and authentic I have no idea if it is really his story or if he has resurrected a ghost from Granville Island's past. He is engaging, warm and completely charming.  Leave your morals at the tent and enjoy the journey with Vancouver's most notorious pick pocket.
By Brieanna Ingram