Faster than the Speed of Dating – Speedy Show, Quirky Concept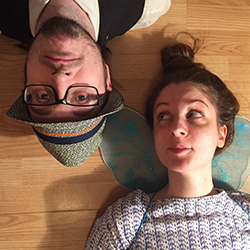 This show is only half an hour long. It makes for a quick, light, and fun revitalization between your various Fringe activities.
Harken back on what you've been told about going on dates or interviews – when meeting someone for the first time, what do you say about yourself? And what do the things you don't say, say about you? I'm talking about body language. Body language is just as important as (if not more important than) what you wear or what you say. This show takes body language as its medium and its message in the context of a speed dating event.
Kevin Reid plays the protagonist, a nameless man in search of love at a speed dating night. He sloughs through a dozen momentary snippets with eligible women – featuring stereotypes of the yogi, the aggressive gym rat, and the token out-of-his-league bombshell to name a few – and afterwards he has nightmares about his encounters. Reflecting on his fears, he learns that by being aware of his body language he could have better navigated his encounters. He awakes to discover he has a second chance at the speed dating night to practice what he's learned.
The eligible women are convincingly performed by Madeleine Hall. With the help of a few props, she deftly transitions between characters with incredible speed.
This is a well-executed piece of physical theatre and I loved the concept. What I didn't entirely understand, however, is the function of the frame story. A fairy waves her wand around with mixed results, attempting to inspire the protagonist without his knowledge, as well as control the mood via lighting and sound. Is she the protagonist's fairy godmother and therefore looking out for him? Is this young fairy actually on the lookout for love herself? Will either of them find love in this whirlwind night of speed dating? You'll have to attend to find out for yourself.
By Sonja Cvoric