Falstaff...in need of Viagra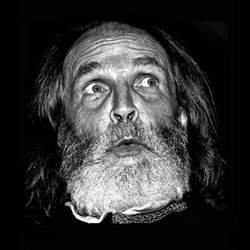 Adapted and performed by stage veteran Clayton Jevne, fans of Shakespeare and history may enjoy this solo play. Jevne has adapted his script from Robert Nye's acclaimed novel. I haven't seen the character of Falstaff on stage before nor read about him. By reputation, I believed him to be the charismatic, jovial, and bawdy mentor of the future King Henry V. In this production, Falstaff seems ordinary and perhaps it is partly his advanced age that has sapped the legendary character's irrepressible life force.
The script is framed as an elder reminiscing on their life. At 75 minutes, the script could be stronger if it had higher stakes, narrative tension, and a reduced run time.
Performance-wise, Jevne is a strong actor; I would have appreciated greater vulnerability. A more charismatic interpretation may yield a bigger impact as well.   
The show's tagline, "A hedonistic romp through barrooms, bedrooms, and battles of Medieval England" is exciting and full of promise. The play could be more captivating if this were pursued more vigorously.
By Jim MacDonald