Fairy Tale Ending & Jack Frost: kids fringe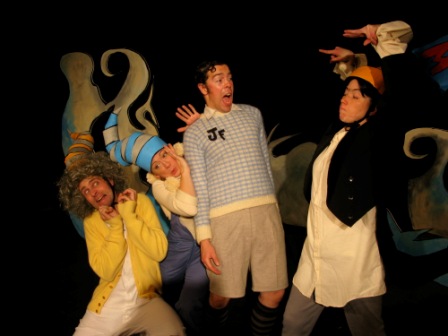 Fairy Tale Ending
Although this show from Role Your Own Theatre is part of the Fringe Kids programming, they have obviously not sacrificed quality or attention to detail just because their youthful target audience are perhaps not as discriminating as more experienced theatre-goers. In fact there is a real maturity to this piece about Jill, a girl whose favourite fairy tales' endings have suddenly been turned on their heads; unlike many kids shows which end neatly and toothlessly or with a simplistic moral statement, Fairy Tale Ending rests on a far more complex and profound note than one would expect.
Having said that, Fairy Tale Ending is still bushels of fun and contains a slew of hilarious Easter egg-like references for the adults (see if you can catch the subtle nod to The Elephant Man). Rousing and complex music makes for an apt comparison to shows such as Into the Woods or Wicked and the crime-thriller format used to drive the story forward works well. Although the whole cast deliver professional-grade performances, the stand outs are Meagan Tuck who impresses with her vocal skills as Jill, and Max Shkvorets as the gangly and scene stealing Jack.
Jack Frost
Fringe regular Cow Over Moon Theatre returns with another colourful and bouncy children's show, also part of the Fringe Kids programming, this time about Jack Frost the winter spirit and his quest for the heart of snowball throwing champion Trudy Montag.
Some awfully catchy tunes, a sneaky and villainous mayor, plenty of visual flair, and bright performances from the cast make for a crowd pleasing experience regardless of one's age. Special mention goes to comedienne Kathleen Phillips in her surly turn as the mayor, and Aaron Knight as Trudy's scruffy and delightfully spastic father Diktat Montag.
Both Fairy Tale Ending and Jack Frost are part of this year's Fringe Festival. You can find out more about them by getting childish here.
By Justin Haigh