Except in the Unlikely Event of War - You Figure It Out! *grin*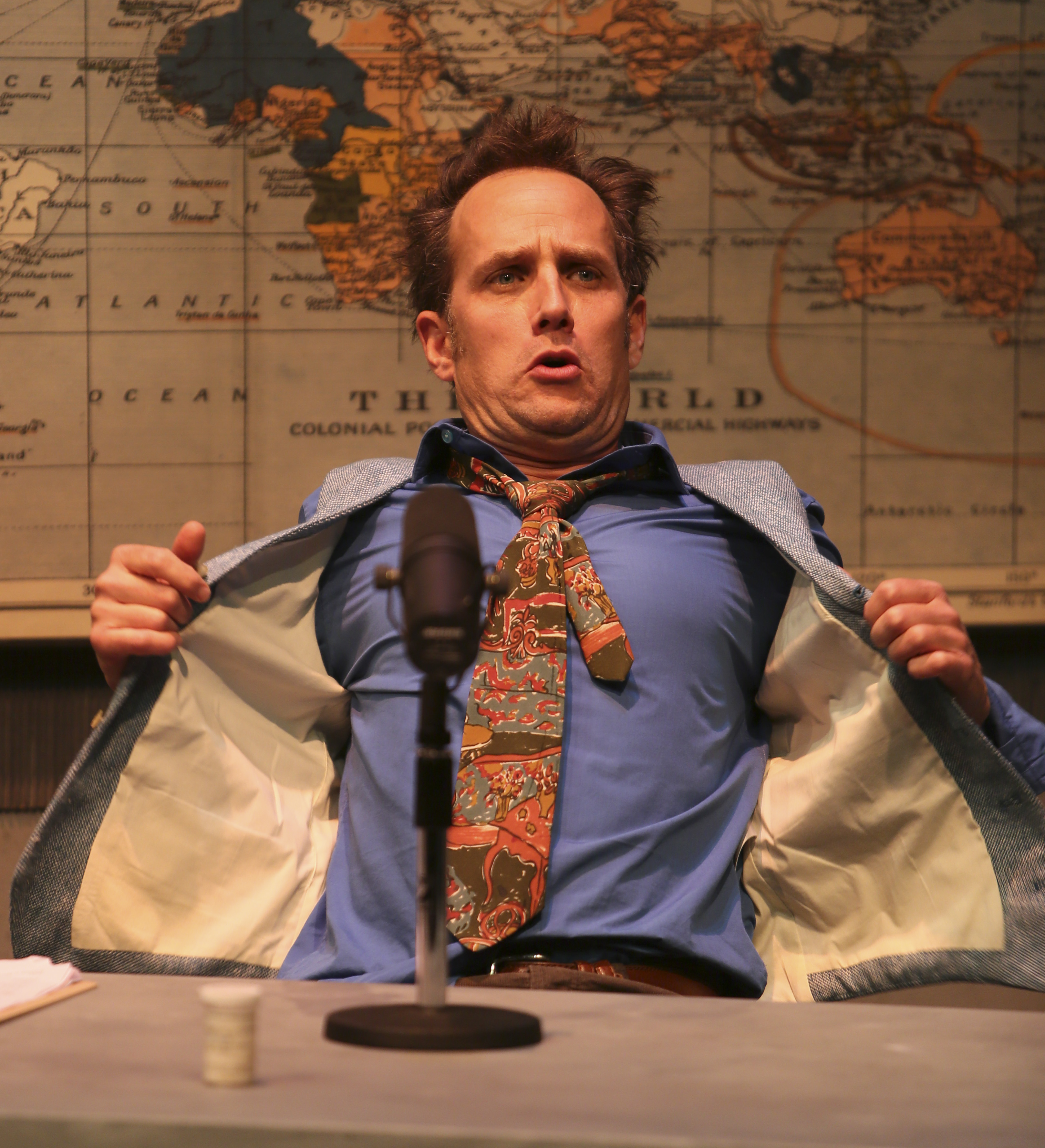 Sean Devine has written an intentionally confusing play (and also stars in it). Directed by Richard Wolfe (who is also in the show), this incredibly slick production earned loud applause on opening night. Kudos to the cast and creative team for a job well done.
The play has two main storylines (well make that three). First, in 1965, a think tank of academics gather to discuss why war is good (based partially on Report From Iron Mountain click here for the Wikipedia entry).  Then in 2015 (leading up to the next federal election), a conservative radio host meets his match in an even more conservative (and sexy) blogger with shadowy connections. And in present day 2013, the actors, director and playwright debate the play's merits (and each other's respective talents or lack thereof) they rehearse for opening night. Still with me? Good!
In fact, onstage the action is fairly easy to follow. We know who's and what's what. The complexity that may keep you up at night is thinking about the actual politics of the country we live in that inspired this show. Sean Devine's playwright notes cite the dual inspiration of Report from Iron Mountain and a Globe and Mail article called " Stephen Harper- The Last Straussian."  He truly takes aim at Harper's government here - its philosophy but more importantly its tactics.  Of late, I have been having similar concerns - listening to a radio commentator explain that Jim Flaherty needs to be careful not to balance the budget too soon before the election or we the Canadian public might decide it's okay to turf the conservatives out. Manipulative? Or worse, listening to the CBC The National's At Issue panel explaining that Harper refused to let media into cover a pre-throne speech AND then sent out an update to conservative supporters stating that the media refused to cover that speech. 
In short, Except in the Unlikely Event of War wants us to think about the question of: "What is true?" I can tell you truthfully that this show is running until the end of November and truly, you should seriously consider checking it out.
By Allyson McGrane