An Evening with Uncle Val: At Home with Andy Jones - to June 8 at Presentation House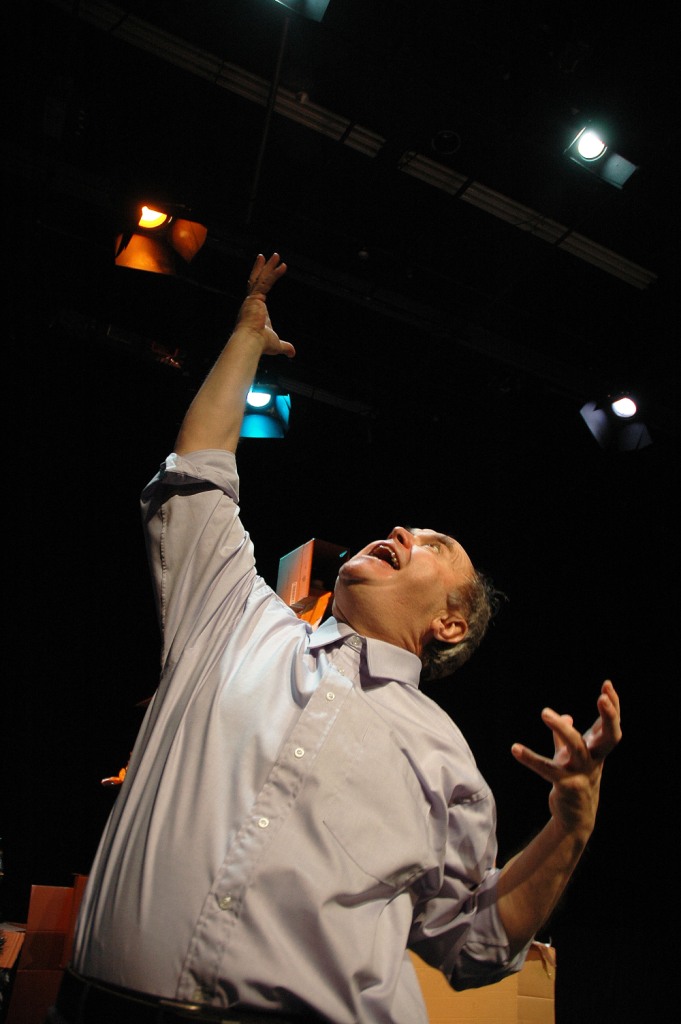 It's hard to say anything bad about Andy Jones. He's just such an affable guy. The kind of guy you just want to sit around drinking and laughing with and listen to him talk.
The opening scene of An Evening with Uncle Val sees Jones begin this one man show as Uncle Val, sitting at a table writing to his dear friend Jack back in his hometown, a village somewhere far away from St. John's. The year is 1986, and Uncle Val has been banished to live in the suburbs of St. John's with his daughter Margaret, her husband Bernard, their children Kimmy and Jimmy, and the poodles, Tiffy and Tuffy. This is an existence wrought not only with cutesy rhyming names and a drunk son-in-law, but with other annoyances such as cable television, which brings depressed Americans and endless episodes of the Golden Girls into the household. In his letters, Uncle Val reports on day-to-day life in the suburbs of St. John's, drinking tea and ruminating over the intricacies of humanity along the way.
Throughout An Evening with Uncle Val, Jones weaves seamlessly between the character he first created in 1978 back to himself, Andy Jones, as narrator. Along the way he adopts multiple personas including John F. Kennedy, Marilyn Monroe, Jacky O. and… Bob Marley. Francis Colbert, a friend of Jones' on whom the character of Uncle Val is based, is also featured. Jones makes the audience feel at home, like we are sitting at a table with him sharing a drink. The evening is complete with low-tech special effects, one of which involves a pair of poodle slippers, and an array of low budget costumes reminiscent of a child's tickle trunk to complete the audience's impression of being in the comforts of Jones' home.
As a raconteur, Jones is charming, witty and humble. He explains to the audience how his humour and writing has changed over the years, from dead baby jokes to more concerned contemplations about the affairs of Newfoundland. And it is, without a doubt, Newfoundland that Jones is mainly concerned about. In one soliloquy, Jones tells us about life as an artist in Newfoundland in the 70s, and the struggle that he and his colleagues encountered as they endeavored to uncover the true essence of what it is to be human, while discovering and disseminating the riches of their unique culture. Jones tells us about when he lived in Toronto in the mid-90s, and how he was frequently asked if he missed the calm and quiet of his home province. Kindly, Jones debunks the myth of a peaceful life in the Maritimes, detailing how propagating Newfoundland culture was a laborious task that was, and still is, continuously under threat of existence, never mind the ever-impeding struggle of the fishing industry and the province's overall economy.
Jones himself grew up in the suburbs of St. John's, listening to stories told over glasses of rum and countless cigarettes, which is in essence what he is trying to recreate with An Evening with Uncle Val. This is pure CBC-approved Canadiana,. Combined with the recounts of the daily life of a senior, the work teeters on the precipice of being quaint, too "back in the good old days." With the majority of the work taking place in the 80s, I wonder about its modern-day relevance and its role in determining the future of culture in Newfoundland. Is talking about how the way things used to be the best foot forward? Maybe it's because I didn't grow up in Canada and didn't partake in watching CODCO, which Jones created in the late 80s, but I couldn't help but wonder why the audience (who was, on average, about 20 years my senior) was laughing so hard. Sure, I laughed too, and enjoyed a number of moments of the evening. Was I cackling uncontrollably like those around me? Not so much.
Maybe I'm trying to read too much into this. As my loved one reminded my upon my return home, "not everything needs to be edgy, dear." An evening of storytelling with Andy Jones as your host could be spent much worse. Besides, it's just so hard to say anything bad about the guy.
_Magnetic North presents: An Evening with Uncle Val. Dedicated to the memory of Francis Colbert. Andy Jones Productions (St. John's). Written by Andy Jones with Michael Jones Sr. Direction and Dramaturgy by Lois Brown. Performed by Andy Jones. Lighting Design by Robert Gautier. Lighting Adaptation by Victor Tilley. Set by Mary-Lynn Bernard. Shea Street House by Jeff Baggs and Heather Read. Sound by Harvey Hyslop. Green's Harbour 'While Shepherds Watch' sung by Ellen Power. June 5 – June 8, Presentation House Theatre, North Vancouver._
By Maryse Zeidler