Eurydice vs Eurydice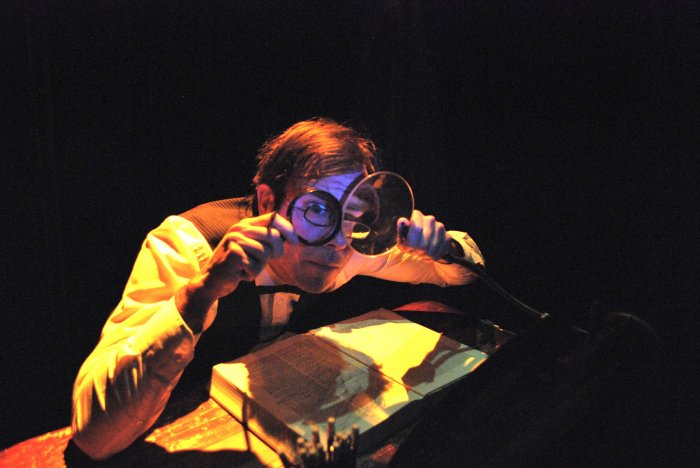 Fans of the Greek tragedy genre have a treat on their hands at this year's SummerWorks Festival: duelling adaptations of the Orpheus and Eurydice myth, one titled Eurydice by Sarah Ruhl, the other simply titled One. The good news for those who aren't fans of Greek tragedy is that both productions are modern, lively, and offer new twists on familiar dramatic material.
Eurydice by Sarah Ruhl under the direction of Kristina Nicoll takes the myth in a colourful direction, drawing stylistic inspiration from pop music, indie rom coms, and Saturday morning cartoons. Structurally, the main difference between the classic tale and this retelling is that Ruhl places Eurydice (Caitlin Driscoll), rather than her husband Orpheus (musician turned actor Justin Rutledge - who gets to use his vocal prowess to excellent effect in one scene), into the protagonist's spotlight, following Eurydice as she navigates the underworld and crosses paths with its motley inhabitants as well as her own deceased father (Hardee T. Lineham).
The production is often light and charming (a trio of three stoned stones who act as a pseudo-greek chorus are one notable example), but uneven in other respects. Sporadic and inconsistent sound design occasionally distracts, and the technicolour nature of the treatment in contrast to the heart-felt narrative creates a roadblock to fully engaging with the characters.
The cast does not disappoint, but one performer that truly stands out is Jesse Aaron Dwyre as the Lord of the Underworld. Dwyre manages to maintain a fiery cheekiness all while teasing and taunting from roller skates, a tricycle, and stilts.
One is arguably a more abstract but more successful adaptation. Only the most basic framework of the original myth is maintained (that of a determined individual on a quest through the underworld to find their lost love), the rest is pure spectacle courtesy of creators Redtoblue Performance. Phillistine (Amber Borotsik) a cheerful librarian, takes the place of Orpheus, in her case searching for her drowned soul mate George (Cole Humeny).
There are a lot of elements to One, and all of them are expertly accomplished. Cinematic lighting and a haze filled theatre make for some striking tableaus, steam punk-esque sound design helps evoke the world outside the boundaries of the stage, limber performers in monstrous costumes create chilling visuals, and short dance sequences prove to be just as expressive and emotionally communicative - if not more so - than the dialogue driven scenes.
Like Eurydice by Sarah Ruhl, One's cast is uniformly capable, but Keith Wyatt is most memorable for his turn as Charon, a stuffy bureaucrat. His comically physical attempt to lift a heavy book is worth the price of admission alone.
One is a beautiful and dream-like meditation on love and loss and sure to be one of the highlights of this year's festival.
By Justin Haigh