Displacement: immigrant experience as national portrait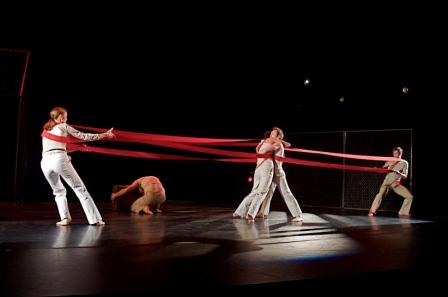 Displacement, produced by HCA Dance, faces its audience with stark, painful, unfixable realities.
Through dance, visual arts and music, it confronts us with the most feared elements of the human experience: lostness, separation, loneliness and death. It offers no solutions, not even a clear narrative, simply a powerful portrayal of leaving home and starting again alone. For that, we owe its creators our gratitude.
Canadian artists Robert Glumbek (choreographer), Vessna Perunovich (visual artist) and Christos Hatzis (composer) collaborated to make this mixed media piece, performed by seven dancers with the Penderecki String Quartet. It explores the immigrant experience, a powerful link between the show's creators. With such a selective focus – the story of a few immigrants – lesser artists might fall into narcissism, at best self-expression shared by a marginal group with similar histories.
No such curse limits Displacement. It's something of a national portrait, giving expression to the hardships most Canadians, new or old, endure as strangers to a place or group they don't know.  The themes expressed are human experiences, inevitable as we live and discover new opportunities, face responsibilities and find our hopes not what we planned. In a solid ensemble, Johanna Bergfeldt stands out as a passionate dancer. The ensemble executes Glumbek's choreography with understanding and precision. However, Bergfeldt expresses the themes with powerful sensitivity and elegance.
The justly acclaimed Penderecki String Quartet provides the backdrop, neither dull nor overwhelming, for Displacement. Their notes are alternately haunting, pulse-quickening and poignant, moulding the hearts of the audience to receive the story on stage. The quartet delivers Hatzis' score with precision and sensitivity, enhancing the performance without overpowering it.
Visual art, shown on a screen that looms over the entire stage, adds an element of understanding to the dancers' story. Vessna Perunovich shows insight, clarity and a strong sense of what's enough in her use of videographer Boja Vasic's work. Each of her images – of explosions, storms, the simple sway of wind in a dandelion and seemingly endless train tracks reeling out behind us – evokes a mood, perhaps a memory, in the audience while the story continues. Perunovich even uses video images of the dance, itself, to contrast the vivacity and determination we saw early in Displacement with the weighted loss we see take over as isolation draws into death.
Minimal sets and props in act one serve their purpose adequately; they represent home, empty loads, somewhere to belong. Unfortunately, the central piece in act two fails to accomplish much of anything. It's an odd, hosiery meets Charlie Brown's Christmas tree concoction. Perhaps it's meant to mimic abstract art, but it detracts from an otherwise breath-taking last segment.
In that segment, the fierce struggle and longing expressed throughout Displacement seem to die. Slowly, loss after loss pile up and get swept away. Companions collapse and others soldier on determinedly. It's a cruel, inescapable conclusion. Survivors trudge on, barely able to mourn. They sleep. They rage. They weep. They begin to love someone else. Then, the new love is torn away, too. What then? You keep going, step after step. What else?
In its bleak honesty, Displacement confronts universal human experiences with compassion and bravery. Its inventiveness, elegance and clarity should not be missed. 
Displacement an HCA Dance Theatre production ran from November 19 to 21 at the Fleck Dance Theatre, Harbourfront Centre.
By Roselyn Kelada-Sedra