Curious Contagious – Enchanting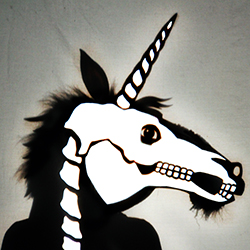 Chloe Ziner and Jessica Gabriel of Vancouver's Mind of a Snail company have again constructed, composed, mimed, sang, and wiggled into our hearts with their unique version of how the unicorn lost its horn through a virus from a little critter whose environment has been destroyed by the unicorn's corporate construction.  
Behind the white backdrop the magical unicorn shadow puppet appears at home in his or her high rise having coffee and 'surreal' before going off to bid on a contract. We won't tell you all the fable's treats, so go and experience the visual genius of cut-out scenery, colorful projections, intriguing physical comedy, and a spell-binding soundtrack of music composed and performed by these two creative myth weavers.  
One has to admired the clever staging of this pair, how they scoot about behind and in front of the backdrop to manipulate their two overhead projectors (I love the old technology!) all the while costumed head to toe as two viruses exploring the insides of a unicorn. As usual, Ziner and Gabriel add their signature humor with puns and in this show, a big white arrow around the gigantic circular microscope projection as if we are observing a research study. The arrow informs us of the tricky little viral tactics while we get to appreciate the artwork of color and texture that composes the innards of a unicorn.   
What is so enchanting about this company is how they combine opposites. A child-like fable with a punchy social commentary, the serious threat of out of control viruses we've witnessed in recent times with the portrayal of the two viral cells as rather innocent characters, a unicorn who is usually portrayed as an innocent creature but in this story is a bit of a villain, yet one for whom we feel sympathy, a light and humorous approach with a deeper sense of awe and wonder.  
There is no doubt that Mind of a Snail makes us look at the troubled world in a new way, with delight. Their imagination is enticing and the social comment is simple yet somehow profound as well.
The audience loved it.  I think you will too.
By Beth Coleman