Countries Shaped Like Stars: playful, magical, tour-de-force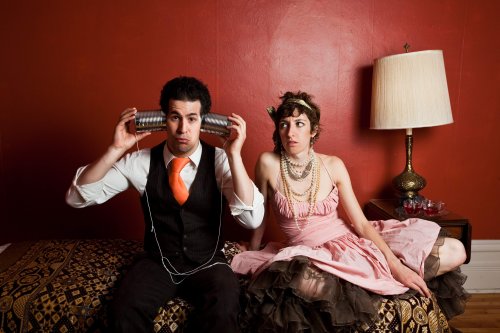 Whimsical. It's the word that kept pervading every thought I had while playing with the impressive cast of Countries Shaped Like Stars (which is on as part of SummerWorks). I say play because each audience member serves purposes well beyond spectator in this gem of a piece, we all become part of this intimate and quirky love story – we're even given roles (mine was Ursa Major).
Let's start at the beginning. Countries Shaped Like Stars, by Ottawa's Mi Casa Theatre, traces the relationship between dragonfruit-selling Gwendolyn Magnificent and mandolin-plucking Bartholomew Spectacular from their first chance encounter through a quirkily strange and imagistic journey. On the way we are lucky enough to take part in a party complete with parlour games, constellations, and possibly an edible surprise. There are songs, there are jokes, and there are more than enough reasons for your smile to never fade.
Creator/performers Emily Pearlman and Nicolas di Gaetano are infectious as the starry-eyed lovers and through their own playfulness and clown-like energy are able to make the rich and poetic text soar. This is a feat as at times Pearlman's script could be overbearing in the wrong hands. How many times does one need to hear the word "peninsula" in the course of an hour? Strangely, I've never been so delighted by repetition, especially set to di Geatano's stunningly simple music. Under the careful guidance of director Patrick Gauthier, we are given a magical hybrid of poetry and narrative. It's bliss – and that from someone who isn't fond of much poetry.
The piece is heightened by simple and slick design, made possibly by Lynn Cox's efficient and equally quirky lighting, and Sarah Waghorn's props and costumes. The overall fairytale-meets-Shel Silverstein aesthetic becomes a third character in the play.
A lot of critics throughout the play's tour have been unable to describe the piece and have relied on saying what it isn't. Instead, I will reiterate descriptors: playful, magical, tour-de-force. Come spend 55 minutes playing – how often as an adult do you get that invitation?
Countries Shaped Like Stars (Mi Casa Theatre) by Emily Pearlman & Nick Di Gaetano is part of this year's SummerWorks Festival for more info get playful here.
By Dave Deveau