The Chronic Single's Handbook - Uncomfortable Adult Situations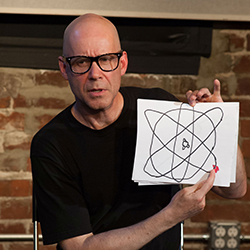 The Chronic Single's Handbook, is a one man show written and performed by Randy Ross. The one-hour show has been featured at venues around New England and at fringe theater festivals in the U.S., Canada, and Edinburgh, Scotland.
Fringe veteran Randy Ross provides his perspective on how men feel about sex, love, marriage, and online dating. The Chronic Single's Handbook (which Ross also sells as a separate book) sounds a lot like a diary of 56 year old, never married, unemployed sex traveller.
In 2007, Ross has been laid off from work and has received a large severance cheque. He has a couple of options for how to spend his summer: he can continue relaxing in his bed with Vicodin, Ambien and Heineken looking for a perfect woman on Match.com and go on endless dates with no results or he can go farther to explore the options. After spending a lot of time on Match.com, with no luck on the dating front, he takes a four-month, solo trip around the world to find true love.
The story begins in Boston, USA, and goes astray in Greece, South Africa, and Southeast Asia.
Although the author tries to convey great messages about the importance of true love and commitment, he sounds very sceptical and bitter about relationships and marriage. He lays bare and exposes his less likable qualities. He tells of his amorous adventures with little snippets about his screwed-up love life, many of which will definitely leave you feeling somewhat uncomfortable.
If it wasn't for his great storytelling talent, great acting, humour and engaging performance, the story itself is pathetic.  
The Chronic Single's Handbook carries content warnings for adult situations, adult language, and more adult situations.
By Natalia Krioutchkova