Certified — Open, Honest, and Interactive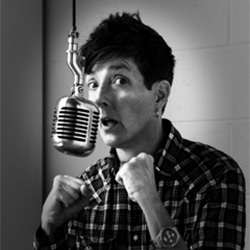 Jen Derbyshire, a unique, hilarious, talented monologist and certified insane person, tells a story based on her own experience in the world of mental health. She states that she has been certified as insane eight times! Jen turns the audience into a mental health review board to help determine her current state of sanity.
The audience gets thrown into topics that most people know very little about, fear a lot, and don't like to talk about. Derbyshire's delivery is passionate and brave. She shares her personal tragedy with dignity and an intelligent sense of humor: she can make you laugh about anything. She brings a different perspective on mental disorders and the stigmas surrounding them, the mental health system, diversity, gender, civic engagement, and the challenges of accepting oneself and others. She lays bare her soul, trusting the audience's sanity to determine her own.
Certified is a reality-based, partially-improvised, interactive solo show. It is kinky, hilarious, brave and unexpectedly touching. It is honest and explicit and can be uncomfortable for some people.
If you are curious about what is really like to be certified as an insane person and to work on a mental health review board, then you should definitely watch this show.
Jen Derbyshire is an outstanding and established multi-disciplinary theatre artist. She is an experienced comedian, playwright, and performer from Vancouver, Canada.  
Derbyshire specializes in the design of playful and participatory experiences in theatre, movement, comedy, media and events that push forward ideas of diversity, belonging, civic engagement, perception change and practical applications of theory. She has recently co-created participatory projects with The Conference Board of America, New World Theatre, The Vancouver International Children's Festival, The Republic of Inclusion, National Art Centre, Ottawa, The University of Guelph revisiting Disability Project, All in, Frank Theatre and Young People's Theatre, Toronto. Jen is an award winning Canadian Playwright and is the co-founder of POD, a Vancouver based citizen designer lab. She has a Master's in Inclusive Design from OCAD University in Toronto (2014) and is currently the Artistic Director of MoMo Performance based in Calgary.
By Natalia Krioutchkova