ca.Sandbar - a Vancouver Fringe tweet-along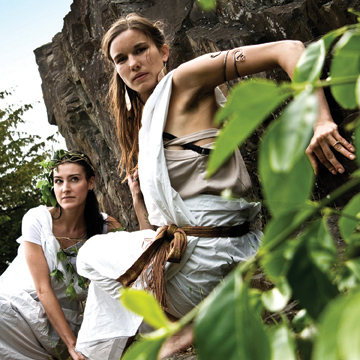 Et voila! The first-ever Plank Magazine tweet-along of a Vancouver Fringe play! Welcome to a tweet-along of ca.Sandbar which is an outdoor show at the Creekside Courtyard near the Sandbar restaurant on Granville Island. Brought to you by Forest Crone Productions, it's part of the Fringe Onsite program in collaboration with the Only Animal. Look at the map if you can't find it (my ticket said 1398 Cartwright Street which is incorrect). Here we go!
Start of ca.Sandbar - it's BYOV E at this year's Fringe!
Many vollies and usher types are wearing golden soldier-type helmets. I want one
Outdoor show, this one - am OK pleased the rain has stopped. #knockwood
Location is the courtyard near the Sandbar restaurant... Show includes original music
Unknowing people keep walking across the stage watching us watching the actors rock out to the fine recorded/live music
Waiting for words to begin... I hear a horn joining the music (which is lovely). 
One woman is wearing a white dress - the others appear to be kitchen staff.
Aha! Soldiers in golden helmets are entering. with spears & swords.
The soldiers are everywhere. The woman in white is tied up and trying to escape.
Oh - I just noticed the sign marked Ancient Troy.
"Dreaming a soul retrieval for Cassandra in a re-imagining of her tragic-comic life journey with Greeks, Gods, Trojans, & Elementals..."
I stopped to peer at the program notes in the ever-darkening night. Cassandra (I believe) remains tied up... Now alone.
Soldiers appear above us & start fighting - Cassandra breaks free &:runs away.
Soldiers discover Cassandra. I suspect that she should have run in a different direction.
I have never seen this hidden courtyard yet people keep walking through. they generally stop & watch, then move on.
Loving the music - Damn fine job.
Wondering who did the choreography as no one is listed.
Essentially, ca.Sandbar is a dance/movement poem. and now Cassandra has returned - no longer tied up.
You HAVE to see this guy's costume! I don't think I'm supposed to watch him but it makes him over 10 feet tall!?! #fringe
Yay! Tall costume guy joins the action! So happy now.
Yep, should have taken Classics in university. Or more Theatre history?
Ca.Sandbar show over! On to the next!
Oh wait - ginormous note. they just ran the show without costumes (well most costumes) or props. Good to know.
SOCIAL MEDIA NOTES:
One Favorite for the following Tweet: "Essentially, ca.Sandbar is a dance/movement poem. and now Cassandra has returned - no longer tied up."
By Allyson McGrane