Carmen: missing a Carmen to love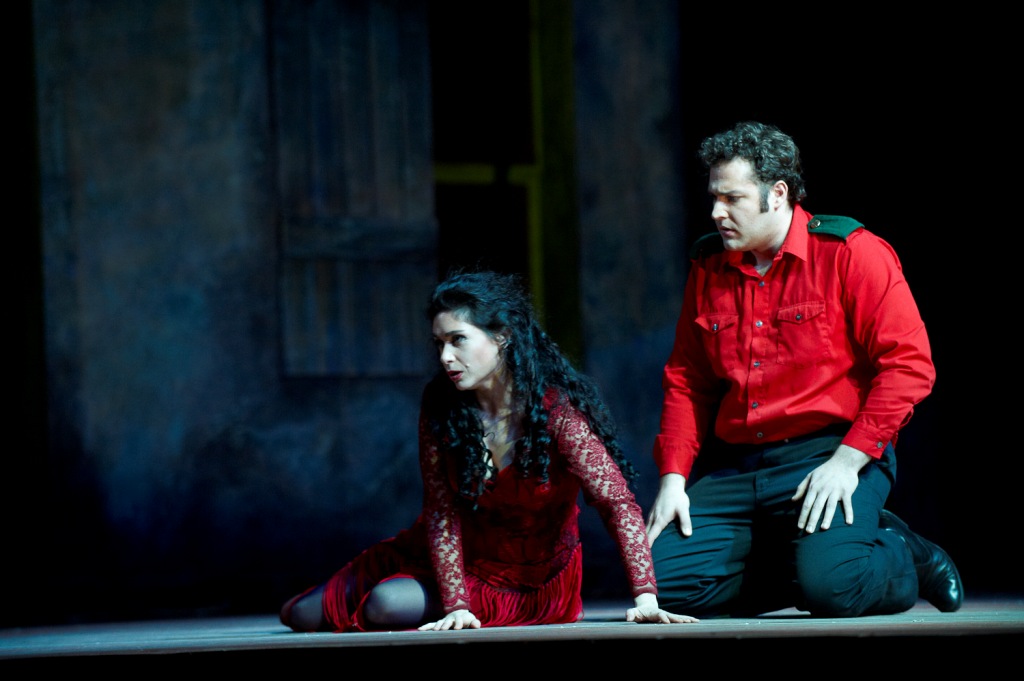 One of the most beloved operas in the world, produced with the calibre of the Canadian Opera Company, must be worth attending.
Georges Bizet's timeless score, ably executed by COC first-timer Rory Macdonald, never fails to please audiences, and the COC cast have earned their stripes as singers. Unfortunately, they was an uneven ensemble of actors. Over a solid ensemble, supporting parts including Micaëla and Le Dancaïre, steal the show, while the leads fail to impress. Don Jose is almost heartrending enough to carry the show, but - without a Carmen to love or an Escamillo to loath – not quite.
Who doesn't know the story of the sensual gypsy – whose irresistible charm destroys the honour and life of a young soldier? After its controversial debut, Bizet's infectious opera has never failed to demand an audience. Director Justin Way made his COC debut on this production and did an adequate job, supported by Macdonald`s delivery of the infallible score. His greatest ally was his ingenious set designer, Michael Yeargan. The Yale stage design professor knows his art history. His gentle but evocative sets seemed to draw on masterpieces of film – Roman Holiday and Citizen Kane to name the most effective – to conjure a mood in the audience, a readiness for emotional response. Promising newcomer Aaron Black completes the vision with lighting that`s none-too-subtle but works to enhance the dramatic tone. Usually, he succeeds – if occasionally distracts.
Perhaps it wouldn`t be so easy to get distracted if leading lady Rinat Shaham were as lovely to watch as her foil, Jessica Muirhead as Micaëla. Shaham is a letdown in the enigmatic role of Carmen – the overtly sexual temptress who`s not a slut, the free-spirit who`s not flighty, the woman who loves fiercely until she changes her mind. The role was too great an undertaking for Shaham`s COC debut. The mezzo-soprano is gifted with rich, warm colour in her voice and enviable strength. She`s a pleasure to hear and a beauty to see, but she lacks the charm for the part, her sexuality like a 2x4 to the head. Her Carmen is rough, sensual and brash – as she should be. However, she`s also self-absorbed, silly and vulgar- saved only by her feminine costumes. An actress in this difficult role must not only make Don Jose love her but the audience as well. We don`t fall in love with her; we don`t even want her.
Don José was better paired with the supporting ingénue, both of whom stole the audience`s hearts. As the doomed leading man, Bryan Hymel was vulnerable and powerful by turns, but always poignant. His sweet voice spins each note with lovely delicacy, matched only by the ferocity he exudes in desperate anger. The only character who competes with him for our affections is Micaëla. Jessica Muirhead wins us with the sincerity and warmth of her portrayal, not to mention her glistening vocals.  Her deliveries are subtle. She`s like shooting Liquid Cocaine – so sweet, you don`t notice it overpowering you.
Shama as Carmen, on the other hand, is well paired with her second lover. As the bullfighter, Escamillo, Paul Gay strikes the perfect figure – looming, flamboyant and brimming with testosterone. His baritone is smooth and strong, so much so that it takes a while to notice the lethargy in his performance. He`s like the guy in the bar who chats the up the hottest girl there, then can`t get it up once he gets her to bed. His characterization lacks energy, so the bullfighter comes off with no virility.
Thank the costume gods for François St-Aubin! He takes some big risks, for example putting the bullfighter in hot pink tights. Most of the time, the risks pay off, creating characters we recognize even when the actors don`t. The risks are only occasionally distracting. (I hope never to see purple tights on Carmen in red fringe again.)
Apart from Yeargan`s sets, the highlights of this production were in the supporting cast. Standouts Justin Welsh as Le Dancaïre and Simone Osborne delivered stage presence I look forward to seeing in bigger roles.
Carmen runs until Feb. 27, 2010. A Canadian Opera Company production running at the Four Seasons Centre for the Performing Arts. For more information go here.

By Roselyn Kelada-Sedra