Camel Camel - Magnificent Existential Absurdism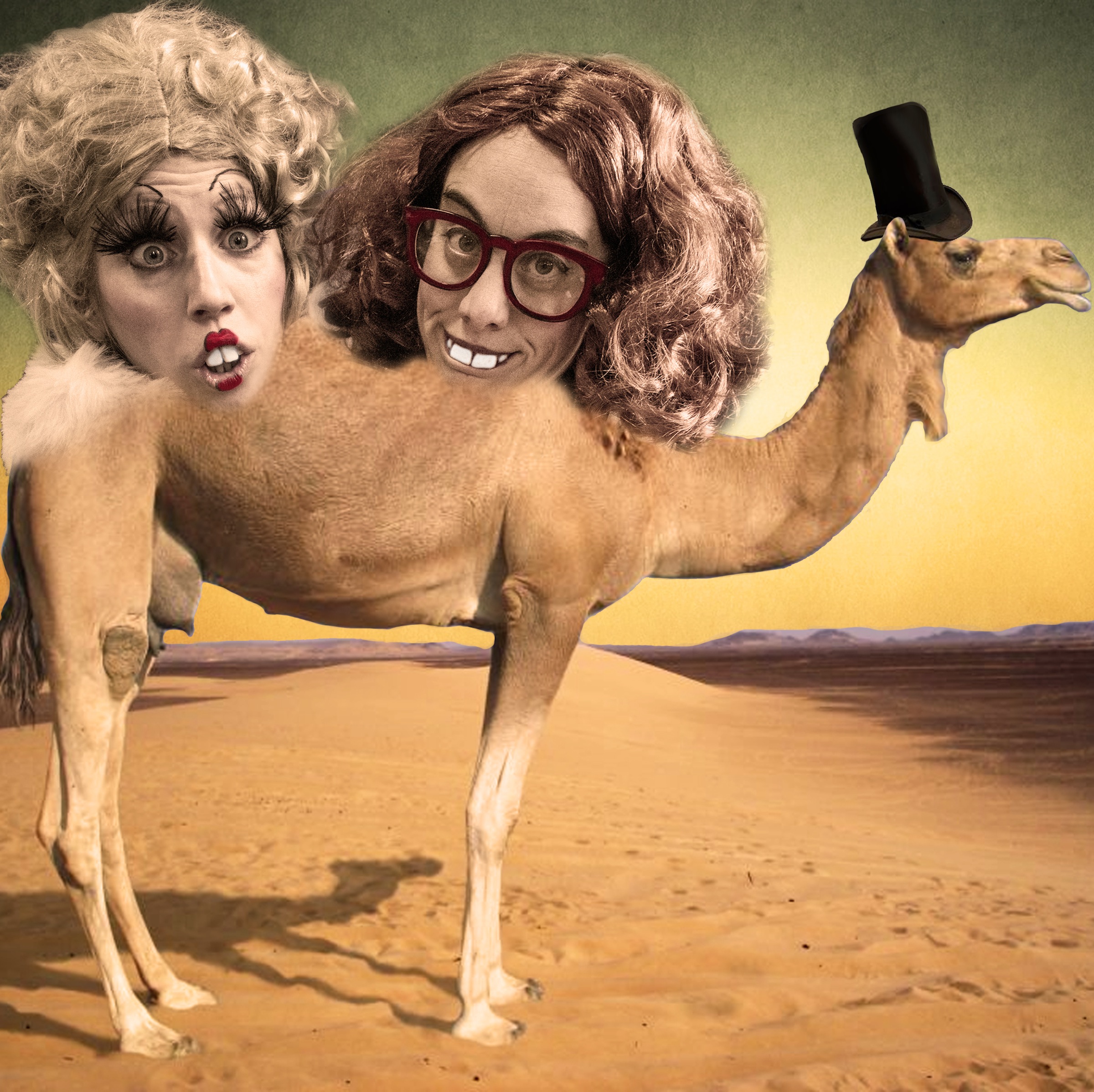 Camel Camel is a superb hour of enthusiastic, hilarious, existential, shape shifting magic.
Janessa Johnsrude and Meghan Frank who form the dynamic duo "Glitter Gizzard" created the show in consultation with Mooky Cornish (Cirque du Soleil). It's physical theatre meets vaudevillian sister acts. Which turns out to be a great combo.
I really can't say enough good things about this show. It's exactly the kind of the theatre I love to watch at the Fringe because it's energized, fun, fully committed, creative and experimental. It's the kind of thing you don't get to see anywhere else.
Camel Camel highly expressive and entertaining while at the same time being deeply philosophical and contemplative. It asks the question: what makes you, you? Is there a consistency to our sense of "self" that endures no matter what transformation takes place? Even death? Theatre is such a beautiful medium to explore this in, because on stage - if done right - you can transport the audience anywhere. You really can do anything with the suspension of disbelief. That is what makes this show stand out. These performers take us travelling through space and time with their imaginative script, a trunk, a screen and their wacky selves. Like children in their parent's basement the only limits are those of the imagination.
The play also explores the longing for connection. It's the: "I can't do it alone" of the vaudeville sister act. It's the "who am I without you?" The defining of self through other and the longing for companionship in this journey called life.
The show also exposes in very funny ways the trials and tribulations of that companionship: the competitiveness and irritations with other: can't live with you, can't live without you. Ultimately it's about a longing for connection - for a playmate, a partner in crime.
Performers Johnstrude and Frank have excellent chemistry and their characters are sharply drawn and hugely compelling. On opening night they had the whole audience laughing from beginning to end.
It's a dark kind of humour, which according to the program was inspired by the surrealist poetry of Ukrainian prisoner Oleg Navolska from 1923. HIs work was about a pair of strange sisters and explores the concepts of duality, identity and relationships. All through the lens of someone facing the end of his life on death row.
Cory Goldman's eery soundscape helps sculpt the surrealist world in a very evocative way and Lynnie Horrigan's costumes are absolutely perfect for this crazy couple.
Camel Camel is playing at the beautiful Firehall Arts Centre theatre until Sunday September 20th. If you like absurdism, philosophy and laughing, you will love this show. It's not to be missed!
By Alicia Novak