Cam & Legs : stepping it up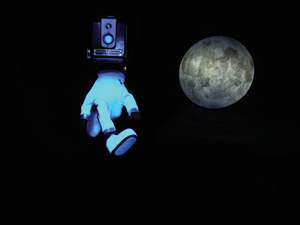 Take your kids to this show.
It's interesting how few shows we actually have in the festival that are truly kid friendly. Sure there is Lavignia and Return to Dragonland, but seriously, the Toronto Fringe has an entire venue dedicated to plays that the kids can go see. We don't. What is up with that?
Take your kids to this show.
It's a fun and entertaining puppet piece about a young DJ that dreams of making it big. Of course, in every good story there is always obstacles, so what does our young DJ have to overcome…? Well, for starters, he has no head. That's correct, no cranium to hold that grey matter in, but do you think that hampers the ideas from flowing? No way. Legs is a resourceful fella and seeks out his path to stardom with a little help from a lucky star, and a camera.
Take your kids to this show.
On top of how fun and friendly this show is, as you enter the theatre you will be met by the author and creator Brian Fidler. An affable young fella from Whitehorse who is just so darn nice you're going to want to like what he does, and you will. He'll tell you his stage manager is Beth and introduce you to the house tech as well, heck he might even take your picture, don't worry, he'll pose you first. 
It's a good little piece with a moral and some great music and sets.
By the way, did I mention, Take your kids to this show!
For showtime information go here.
Did you see this show? Do you have kids? Do you want kids? Are you a kid yourself? Tell us below.
By S Tyson