Buy Me Dinner First: A Rollicking Good Time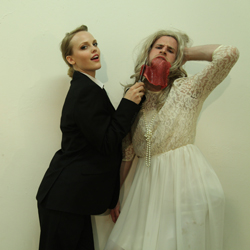 Jam-packed with funny characterizations, party music and entertaining videos, Buy Me Dinner First is an all-around good time. 
This sketch comedy show performed by a tight troupe of actors is uproariously funny and fun. If you're looking to laugh, search no further. The actors work well together and really know how to connect to the audience to take us along with them. Actor/creator/writer Dylan Archambault, in particular, has a huge and captivating presence and knows how to bring it. The house was packed when I went, and the audience was in stitches throughout the show. 
Buy Me Dinner First is about dating.  It covers the ins and outs, trials and tribulations, do's and don'ts of this very human and strange thing. It touches on everything from politics to technology to nature walks gone wrong to cross-dressing. The clever writing sends up situations to the point of wonderful absurdity - just the way that sketch comedy should. I was surprised to see that this is Archambault's first go at writing given how entertaining it was. I look forward to seeing more!
The show is creative and energized from beginning to end. The cast - who all study together at Austin Tuck studios - is consistently strong, and many of the actors are very versatile. Standouts for me were Ben Jacob's hippie freeloader, Arggy Jenati's obsessive girlfriend, and Dylan Archambault's motivational speaker. 
Staged in the beautiful theatre at The Cultch, the production uses the space well. The projections and video clips fit seamlessly with the live action sketches and enhanced the show, giving it a contemporary feel. Music from live DJ Giselle Fu also added a lot, keeping the energy and momentum up, especially during transitions.
I do have a few criticisms though. The opening number was attention grabbing and suitably campy, however the lip synching was generalized. That number in itself could really be a show stopper with more work. Also, the actual singing from the chorus later on was often out of tune. Finally, I didn't enjoy the ending which seemed more negative than it needed to be, and not really in line with the fun tone of the rest of the show.
For all you sketch comedy fans, get out there and see this show. It's a well put together, fun, and sharp production by up-and-coming actors.
By Alicia Novak