Butt Kapinski - Hilarious Right From the Start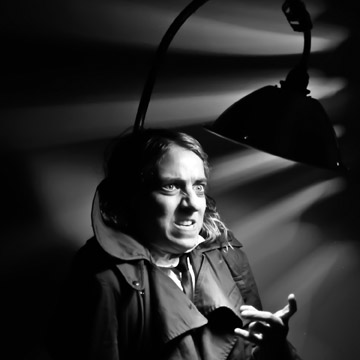 This show is a blast! I bet it is completely different every night.  True audience-participation improv theatre at its best.
"Butt Kapinski" is an enigmatic character that puts the "issthp" in lisp with every word.  The house and stage lights are all out...the only beam is from the lamp that the androgynous "Butt" has extending over his or her back like a halo, so "Butt" can spot his next audience victim or suspect.
This clever "Film Noir" satire spoof is engaging throughout. The plot is simple...there was a murder in Vancouver, and detective "Butt Kapinski" is there to find the killer.  Everything evolves from the feedback and testimony of the audience.  Playwright and actress Deanna Fleysher is witty...mysterious, and sexy. "Scrooge meets The Penguin" with some swagger, and without missing a beat.  The audience can try and throw the plot...but Deanna puts us in our place. Hilarious right from the start. Thanks you Hollywood!
By Chris Steffler