Brief Encounters 19: Definitely NOT Noel Coward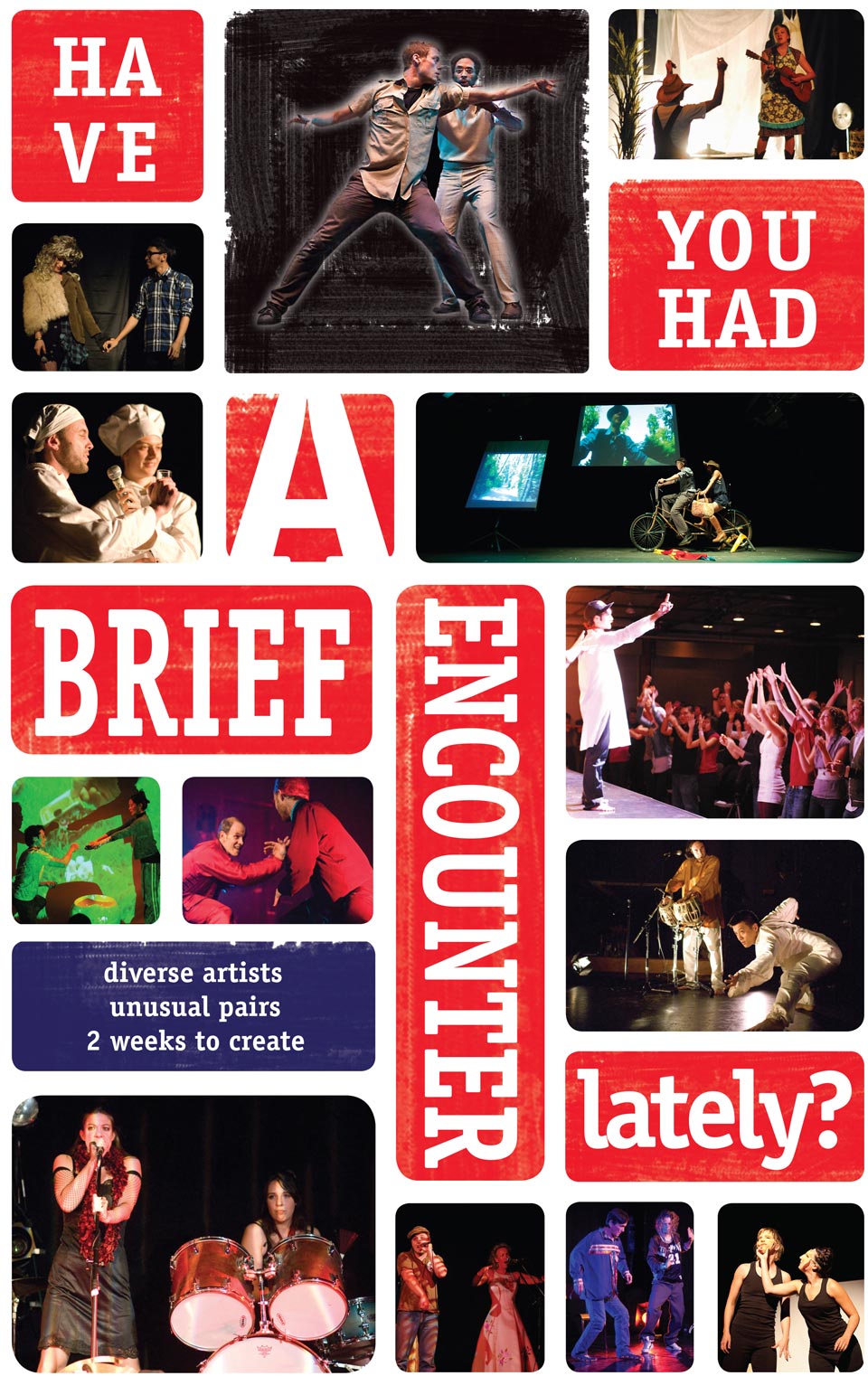 Recently at the Havana Cafe, I was having lunch with David Bloom (Artistic Director, actor, writer, fight master - all-round Renaissance Man of Vancouver's alternative theatre scene). To arrange this meeting was an exercise in perseverance. Why? Bloom is a dervish of activity - just finished a role in Three Sisters, already gearing up to teach at Capilano University and now plunged into rehearsal for his next appearance in Brief Encounters.
At that my mind reels. Brief Encounters?! I cry out, "Why would you do a Noel Coward play?! Is there an  audience for that in small theatre? Isn't it a bit dated??" (which immediately dates me for making such a connection). Then David explains that THIS Brief Encounters, ("it's plural, not like the play") has nothing to do with the late British playwright, producer and theatrical eminence of London's West End (active in the early 20th century).
Hardly.
THIS Brief Encounters, as anyone but retrograde geezers know, is a whirly-gig of theatrical spontaneity and chance; a mish-mash of creative professionals, thrown together, in pairs, almost by whim, for the sheer joy of observing the results. And, oh yes, they have two weeks to wrestle something entertaining and audience-ready out of their combined crafts although they have never met before nor seen one another's work.
What's that called? Theatre-without-a-net.
Immediately excited by this experimental format, I bought tickets and was initiated into the Brief Encounters culture with Brief Encounters 19. I suspect that many readers of Plank are already initiates but if you have not attended at least one, give yourself a big treat and be sure you are at Brief Encounters 20 (coming in fall 2013). 
Entering the space is like discovering a new cabaret in some far-flung vacation town, replete with salsa rhythms and pounding beats from D-jay artist Suez Holland. This soundtrack spikes every  pause in the action on stage with a driving mix of techno-rock, Latin disco, pop oldies and euro-club obscurata. Against the far wall there is a long bar and alongside the tech booth at the back is Live Artist EC Salazar working in charcoal on a sketch of a monkey.
Everything is for sale and volunteers are everywhere at once hawking raffle tickets for the prize of being granted a special table with complimentary wine for the next event, while a bidding box is filling up with hopefuls vying for Salazar's "Monkey."
Onstage appears actress/comedienne extraordinaire Riel Hahn who has the dual responsibility of Guest Programmer and Host – a role she was born to play. Dressed in navy blue jacket and skirt with green stockings and brown sensible shoes she takes control of the event with all the aplomb of a girl school headmistress. Hahn immediately sets the tone for the evening by making sure we understand that we must spend our money freely and often on all the goodies so arranged to entice us. Hahn's commentary is lively and hilarious and her shtick is a small masterpiece of camp humour and stern control: Dame Edna Everage meets Miss Jean Brodie. 
The show kicks off with the combined talents of Butoh dance practitioner Carolyn Chan and performance artist Nita Bowerman. I am familiar with Butoh and Chan's work but Bowerman is new to me. (Anticipating this, the producers have included  printed bios in the program as well as a brief video introduction of each pair.) In the dark, two figures creep on stage supported by a blast of John Cage-like soundscape, and with a sudden burst they are illuminated by long strands of lights wrapped around their bodies like jungle creepers and fashioned in the manner of antique  outdoor Christmas lights. 
Carolyn Chan is enclosed in white lights mirroring the full-body white paint make-up of her Butoh discipline, as well as the traditional thong or 'fondoshi'. Nita Bowerman's lights are various colours and the two women slowly arise and with increasing vigour unwind themselves from their 'chains' and perform a ritual lashing on the floor with the strands, whirling them around, taking charge of them, and symbolizing, (I took it) a release from the bondage of female stereotypes. Though Bowerman is clearly not as familiar with the Butoh form (small wonder – it takes years), and barring the problems some might have had with sight-lines, (much of the action takes place lying down), the two brought off a spirited piece of performance theatre that was, speaking personally, very intense and enjoyable.
Chan and Bowerman are followed by lawyer/performer Danielle Lemon and writer, actor, stand-up comedian Wes Borg. These two were, in a word, HILARIOUS. And not just because Borg was wearing  a t-shirt saying so. ("Relax – I'm Hilarious"). Lemon gave us a couple of the most engaging female comic characters since SNL (name any era), and reminded me (geezer time!) of Lily Tomlin's outrageous brat, Edith Ann. Borg is quite simply "Letterman-ready" and brought razor skill to the writing: Legal Haikus from boilerplate contract language, and a simple but brilliant take on "copyright infringement" and "piracy" which both of them accusing the entire audience of these crimes through the mere act of "remembering" their show.
Next up, actress/voice artist, France Parras and painter Thomas Anfield offered a harrowing and very funny parody of hard rock mania and screeching garage band excess as they assaulted the audience's sensibilities with his howling guitar and her aggressive breasts (you had to be there). Did I mention that with sunglasses and leather biker jacket, Anfield could have doubled for Woody Harrelson in Natural Born Killers?
Then, Tariq Hussain and Sammy Chien paired off to present a visual/musical feast of dynamic colour and musicianship, feeding Tariq's sensual guitar through Sammy's Wii-activated computer mine field to produce the widest-ranging visualization of sound and light I have seen since (geezer alert!) the ecto-plasmic assault light shows of the 1960s.
To close the show, David Bloom and Eileen Kage combined the (martial) art of Taiko drumming with the crafted mayhem of stage fighting. Kage's remarkable discipline and intensity on the giant Japanese drums, segued beautifully with Bloom's expertise at fight choreography, to produce a brilliant panoply of thrust and counter-thrust that still took us by surprise at certain moments. At one point they jumped off the fight wagon and without any warning joined hands and skipped, side-by-side, around the stage like two mummers at the Maypole.  The crowd went mad. Really.
I can say this: I won't be missing Brief Encounters 20. And neither should you.
By Reg Tupper