Blackbird: A Moving and Searing Drama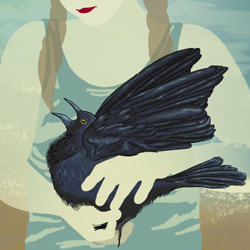 Aenigma Theatre tackles the challenging and gut-wrenching Blackbird by David Harrower with some success.
The award-winning play is based in part on the true story of a US Marine who had a sexual relationship with a minor. Una (played by Stephanie Izsak) a 27 year old woman comes face to face with Ray (played by Francis Boyle) 15 years after their relationship had come to an end. While they were together, he had been 41 and she had been 12. The play is about their story, their perspectives, their feelings, their questions, their fears and the open wound of never having resolved any of it.
What makes this play compelling and socially important is that none of it is cut and dry. There are so many questions about responsibility, abuse, authority, and morality. One of the merits of the play is that it exposes how society is unprepared and ill equipped to talk about these things openly and in a way that helps the people involved. In Blackbird both characters have been driven into hiding and have kept the details of the incident locked away in an inner dungeon for years.
This is difficult material - and not only in terms of content but also because of the way it is written. On the night I attended, the show got off to a rocky start but warmed up to reveal more depth and connection.
The circumstances and the relationship off the top is very complex and layered with history, emotion, and social constraints.
Director Tanya Mathivanan had the actors open the play at a fever pitch - which is appropriate. Unfortunately, the first chunk of the play seemed generalized and the actors didn't seem to be listening to each other.
Another obstacle in the script is the way the dialogue has been written. Both Una and Ray stutter and struggle to express their thoughts and feelings.  They often interrupt each other in passionate outbursts. The actors had a hard time bringing this to life organically.
However, Boyle and Izsak found their stride after the first section.  When they began to recount the past, their stories were captivating and compelling. Both found moving moments, and the play got better and better as it progressed. The tension was palpable by the end, and the last quarter was very powerful, leading to the shocking climactic moment of the story.
Blackbird has a lot to offer as a play. This is a great opportunity to see an award-winning, taboo-busting story that tackles some very dark, but very real issues. Kudos to Aenigma Theatre for taking on such a meaty production and sharing it with Vancouver audiences. It's a gut-wrenching production and one that left me thinking long after I had left the theatre.
By Alicia Novak