Biographies of the Dead and Dying: emotionally charged hauntings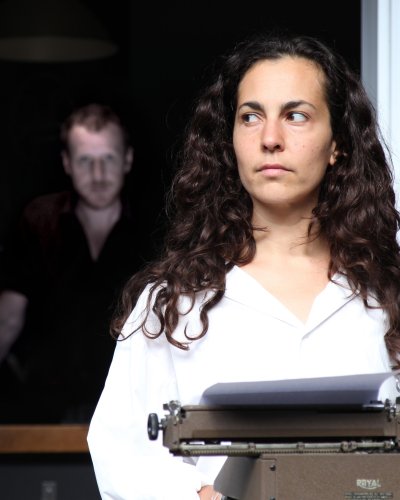 Vancouver's MachineFair make their Toronto debut with Biographies of the Dead and Dying, a story that's as much about writing and creativity as it is about death and mortality. Andrew Templeton's script tiptoes coyly along the gothic genre line to explore the beauty and agony of the creative process, while Amiel Gladstone's direction coaxes the perfect atmospheric tone from the would-be ghost story.
Aviva Armour-Ostroff plays Alice, a one-hit chick lit author who's rented an allegedly haunted house on the coast of Vancouver Island in the hopes of finding inspiration for her next novel. Alice is tormented by her inability to invent or imagine, trapped in her need to write from experience. Her conflict is juggled back and forth between her insufferably talented ex-husband who can invent fictions on a pretentious whim, and her earthy, straight-talking neighbour and landlord who subtly facilitates the experiences Alice craves. Both male characters are performed with aplomb by Jeff Meadows, who embodies the antithetical roles so wholly that at times he seems actually split into two.
Alice's frustrated search for the ghost of Old Tom, the house's previous suicidal resident and supposed ghost, belies her greater problems with her craft in particular and her life in general. Templeton uses the schism between Alice and her ex-husband to explore metaliterate themes on writing, with the occasional tongue-in-cheek reference to playwrights as the absent third party. Although no literal specters do appear, the debate is open as to the metaphorical ghosts (her creativity? Sense of self-worth? Relationships?) that haunt Alice all the while.
Designer Kimberly Purtell's props and lighting evokes the creaky, secluded ambiance of a haunted house, revolving around the foreboding old armchair in which Old Tom committed his final act. The setting itself stretches beyond the walls of the house, with bits of dialogue subtly crafting the isolated, atmospheric landscape of Vancouver Island's remote coast.
Cleverly crafted and seamlessly delivered, Biographies of the Dead and Dying is an emotionally charged exploration on the stories we tell, where they come from, and how they shape who we are. Not to be missed.
Biographies of the Dead & Dying is part of this year's SummerWorks Festival. For more information go here.
By Ryan West