Best Picture – You'll Recognize at LEAST One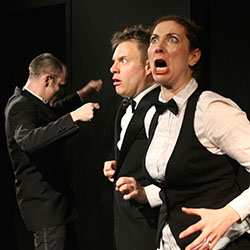 This is a fast-moving review of the last 88 years of Oscars, and will work best for you if you're a film buff, but really, anyone who has been to the movies anytime in the past century (that's most of us) will remember some of these films. They're rapidly and irreverently evoked by this high-speed, mobile-faced team. There's Casablanca (of course), a bit of every song from Mary Poppins, (uh-oh, or was it Sound of Music?), a painful pronouncement from The King's Speech, a longer one from Forrest Gump, a puppet version of Kramer v Kramer, and evocations of many or all other winners including Amadeus, Driving Miss Daisy, Hamlet, Bridge on the River Kwai (no female roles in that movie!), Shakespeare in Love, Gladiator, A Beautiful Mind, No Country for Old Men, Birdman…. Did they miss any? I'd have to know more movies than I do to know if they did.
There was a touch of social commentary, too – a reminder that of all the 88 films winning Oscars, Kathryn Bigelow with The Hurt Locker (2009), is the only woman to have won the Best Director Award so far. The actors noted that two of their team were Canadians and one was American: I'm not sure why they felt they needed to do that. I enjoyed them all simply as talented performers.
I find it amazing that human beings have the memory to learn lines for a performance like this and the expressive capacity and desire to perform the slapstick physical comedy that brings it to life. I'm sure that the sound score provided by Rick Cousins helped them along, and maybe there are a few things they vary or omit from performance to performance but it's still a remarkable romp the three actors take us on across nearly a century of Oscars. If you've ever seen a motion picture, you'll be able to connect with this! It's a hoot.
By Keith Wilkinson