Badmatch – Horrible Dates Make Great Stories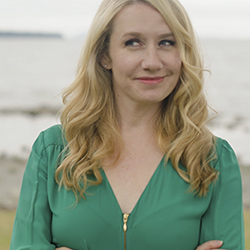 As I was waiting for Badmatch to start, I chatted with my seatmate about our own experiences with online dating in Vancouver. Clearly it is a subject many are familiar with since Studio 16 was sold out for the show. In Badmatch, Leanne Kuzminski shares the love lessons she learns on her dates from hell as she tries to find love in Vancouver's notoriously aloof dating scene.
I was a bit impatient with the opening sequence when they asked the audience to recount our first loves and what we would do on our perfect date. All I really wanted was for them to get started so I could experience the schadenfreude of Leanne's horrible dates and not think about the nightmare that is my own love life.
Well researched from her own dating experiences, Kuzminski's writing is sharp and endearing. Watching her character go through all the ups and downs of trying to find someone to have a committed relationship with is something that is relatable to most of, if not all, the audience members. The most delightful part was that the protagonist faces uniquely Vancouverite challenges. Like: what do you do when a guy asks you to do the Grouse Grind for a date? Is that even considered a date? Only in Vancouver would extreme physical exertion be considered a date.
The big laughs come from the crazy men Kuzminski writes for her character to encounter. Josh Murdoch steals the show by demonstrating his range as hilarious and believable caricatures of the types of guys you would find in Vancouver. From the new age yogi who treats his body like a temple to the party animal who just wants a good time, each character was a comical distillation of the stereotypes Vancouver girls on Tinder swipe through.
If you've ever talked about how hard it is to date in Vancouver, go see this delightfully charming show.
By Stephanie Lo