Aftershock: the insides need work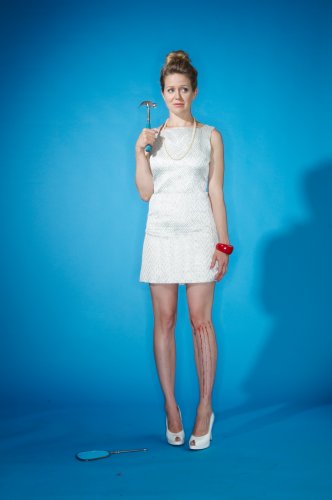 From the first words uttered onstage, I was elated. The rhythm and timbre of the dialogue suggested a lost Michel Tremblay play, with gorgeous repetitions, layered character conversations. However, things quickly become absurd, and then macabre, and then they fell apart.
With Aftershock (on as part of this year's SummerWorks), playwright Evan Tsitsias offers meditations on beauty, possession, belonging and home. Anna has just returned home from an Extreme Makeover show. Her physical beauty is utterly shocking and in some cases overbearing to her trailer park family and boyfriend. But no sooner does she return home, then she becomes stuck to the floor. Quite literally. Though at first the symbolism seems quirky and intriguing, the dialogue grows tiresome and laden with characters speaking their subtext.
Thankfully, director Rod Ceballos has assembled a standup cast: there's the family matriarch played by the hysterical Lynne Griffin whose quirks and fortune cookie proverbs keep the show clipping along, Amy Rutherford gives the unnuanced Anna all she possibly can, and there is strong work in Patrick Garrow's performance of the one-dimensional boyfriend Gary. More laughs come from sister Becky (Allana Harkin) who spends the majority of the play in a helmet to prevent panic attack-related accidents, and though he brings energy, David Mackett doesn't feel right in the role of Brad, Gary's friend who becomes embroiled in family dynamics.
An impressive and chilling sound design by Marko Pandza and David Yenovkian tells us too much that things are getting worse. We see that – we see that in the blood onstage, in the lack of redemptive qualities in any of the characters we meet, and in the problematic allegories that Tsitsias offers: Anna can only hurt others by hurting herself, and this makes her powerful? No one is likeable. Not even Quinn, Anna's daughter (the confident Catherine Rainville), who, as the representation of the next generation of this horrid clan,still doesn't have enough dimension to make it all mean something.
"They should have fixed your insides, Anna. At least before your face matched," Becky says early on in the piece. Though the production is slick (congratulations to designer Glenn Davidson), and the cast upstanding, the insides could use significant work.
Aftershock is on as part of this year's SummerWorks Festival. For more information shock yourself here.
By Dave Deveau