Afterlife: the 2nd time around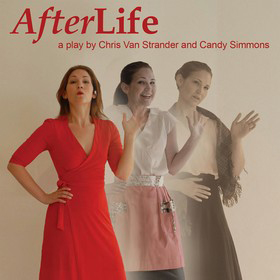 This is Candy Simmons 2nd time here with the same show. Seems a lot of folks didn't make it out last year as she was at an off island venue. Currently residing at the PTC, she's at the centre of the action and anyone walking by SHOULD pop in and check out this little gem. However, at 70 minutes there's nothing 'little' about this piece considering what the reviewers and audiences have been saying from across the continent.
I could tell you all about the 3 distinctly different yet connected women she portrays in succession. I could go on about the subtleties and humour that seamlessly flows from her polished delivery. I could extol the virtues of the script put together by Ms Simmons and Chris Van Strander that was directed by fellow New Yorker Virginia Scott. I could even break out the thesaurus and begin waxing intellectual about the themes, ideas and morals surreptitiously wending their way throughout the piece, but…  I would prefer if you just went and saw the show.
I believe this is the last leg of her North American tour and there are only two shows left. If you can: go see this show. Heck, vote her pick of the fringe so you can take someone else who can't make it this weekend. If you can't make it, tell your friends to go so they can vote for it so you can see it when it gets picked.
The only reason not to go see this show: you don't like good theatre (and if that's true, why are you reading this?)
For showtime information go here.
If you've seen this show and have to something to say, say it down below!
 
By S Tyson