Actionable:music is at its beautiful core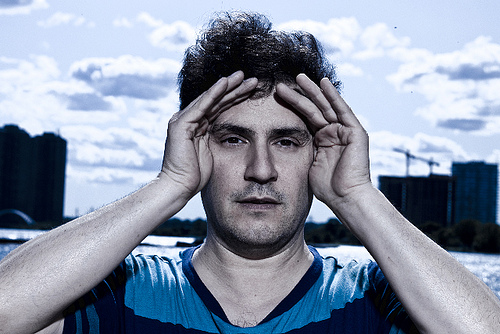 It may be hard to believe, but that little guy wearing the checkered cook pants, white shoes, yellow shirt, black vest and white bow tie, playing the accordion, and rockin' the "jewfro" is one of Canada's most sadly underrated singer- songwriters.
Very much playing the jester in his one man show Actionable (currently on stage as part of Victoria's Uno Fest) Bob Wiseman speaks the truth behind a facade of laughter.
Ron Sexsmith called him "Canada's Tom Waits", but Wiseman is more like a Bizarrro Ron Sexsmith. The comparisons are twisted, but obvious.
Actionable is a multi-media show in which Wiseman often finds himself accompanying video images of himself. Obstensibly a show about his various run-in with music industry lawyers, it is layered throughout with a number of wonderful songs.
The stories themselves are all pretty funny. The songs almost all heart breaking. The audience didn't know what to think. Wiseman is, alas, an acquired taste. Wiseman has been milking some of these legal tales for quite some time now, but if you've never heard them before they are quite the treat.
Technically there were some problems; you don't want your recorded vocals to overwhelm your live one, and you shouldn't set a main background image directly behind yourself so that you are blocking it, but these are minor complaints.
The show is full of laughs, but at the core of it all is Bob Wiseman's  achingly beautiful music.
Playing again Sunday May 23 9pm and Tuesday May 25 7pm at the Metro Studio as part of the Uno Fest. For more information get into action here.
By Paul McKinnon