30 Dates: flat chemistry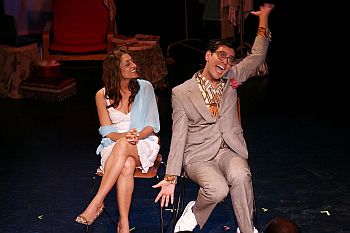 Fenulla Jiwani's trite comedy 30 Dates, currently at Canadian Stage in a Fenstar Production, follows Priti (played by Jiwani) through one brutal year of ambitious dating. It's been called My Big Fat Greek Wedding meets Sex and the City. Sure, it's about the hope, humiliation and heartbreak of searching for love. The difference is, My Big Fat Greek Wedding is funny. And Sex and the City has SJP.
Priti meets guys through setups, online dating sites, Facebook, at the bookstore, at the movies… pretty much anywhere she can find them. She tries them out with one goal, to find an Indian man to marry. Priti is a westernized HR consultant who lives with her parents, and she's on a mission. Jiwani might have had a mission to create an Indian-specific romantic comedy, but it's worth nothing more than a check on her list and jobs for the cast and crew.
You wonder what Priti has been up to all her life, since the comedy presents her as a 34-year-old dating novice. She's romantic, focused and attractive, yet she's constantly fighting the claim that she's "picky." Would it be so bad for a confident, independent adult searching for a lifelong partner to be picky? Priti's parents pester her to find 'a nice, Indian man to marry,' and her caricatures of them are the funniest elements in this show. However, Priti doesn't seem that different from her obnoxious parents, except that she wants to be in love, on top of everything they want for her – and she doesn't have an accent.
The cast of six men, plus Jiwani, is skilled enough – with Jiwani on stage the entire show and each male actor playing about five men. However, most of the characters are stereotypical and not even funny enough to excuse that. Priti is the only somewhat developed character, and her best quality is being relatable. She comes close to finding love twice, but something gets in the way – first, a monastic calling, then Indian Idol. It's actually disappointing when her childhood friend dumps her for Buddhism –because he's the most enjoyable character on stage.
Patrick Whalen shines in each of his parts, including that love-prospect turned monk and the white adopted Indian who feels her up in a park. He's even the comedic highlight of the scene as the waiter when she's on another date.
Understudy Qasim Khan is hilarious in the roles of the old fart pretending to be 30 years younger and the uptight mama's boy. Other than that, 30 Dates is exaggerated accents, tired jokes and flat chemistry.  
30 Dates, a FenStar Production on at the Canadian Stage Company, Berkeley Street Theatre, June 2 – 12, 2010. For more information SJP yourself here.
By Roselyn Kelada-Sedra