2 Ruby Knockers, 1 Jaded Dick - Puns, Magic and Audience Participation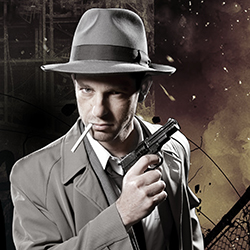 2 Ruby Knockers, 1 Jaded Dick is performed by actor and playwright Tim Motley from Melbourne, Australia.
The lights went on and a rumpled sort of Humphrey Bogart, in the requisite raincoat, appeared. Smoking a cigarette, and talking like someone out of a B detective movie -  in both dialect and dialogue. I think if it had only been this, and our "Dick" had only told a few jokes I would have been satisfied. But there was more – much more.
Tim Motley – ( insert your joke here ________) - the only actor in the play (other than a few conscripted "volunteers" from the audience) was able to engage and involve the audience in a way few detectives could. He also gave an arresting performance. There was a steady stream of detective dialogue, blended with some clever but bad puns, told with a straight face or a smirk of confidence. He needn't have worried. He had the audience with him every step of the way.
Then, he got audience members writing down and submitting words on cards, responding to his surprising questions, and even coming up on the stage for further frolicking. You would almost think the volunteers planned it – but one of my friends didn't and got drafted. He was transformed into a hilarious part of the show. It was all laughing with, not laughing at, the audience with Tim.
We were well into the show before I realized that Tim was weaving magic and mentalism into the montage – without skipping a beat... well, he did skip or miss things from time-to-time, - a joke, a card, a  joke gone awry, but his humility and self-deprecating humour made him forgivable and funny in the tradition of Johnny Carson's bomb disposal response. This was all amazing and highly enjoyable.
And all these things happened at once. It was a joy.
By Randall MacKinnon