Full Blast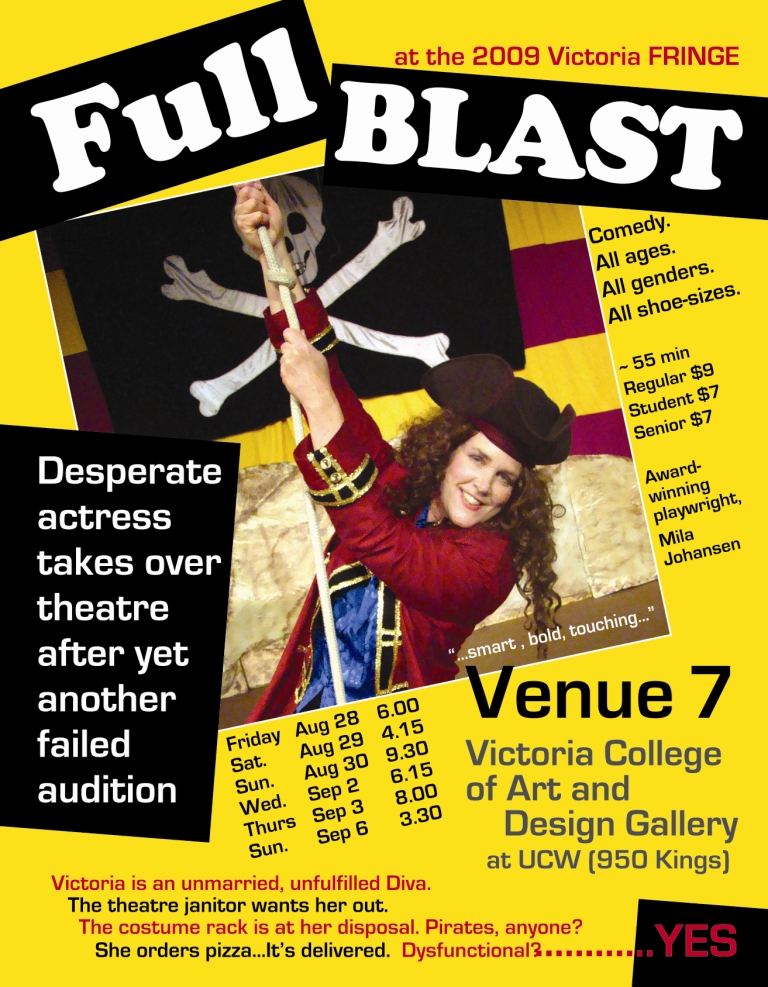 Classics with a Twist presents Mila Johansen, internationally acclaimed Californian playwright, who brings the comic splash, Full Blast to the 23rd Annual Victoria Fringe Theatre Festival and the 25th Annual Vancouver International Fringe Festival. 
Full Blast is for anyone who can laugh, all ages, all genders. It is a smart, bold, and touching comedy about Victoria, a desperate, unmarried, pre-menopausal woman who takes over a theatre after yet another failed audition. A name change is just what the psychiatrist ordered, but how will she tell her sensitive mother? Her cell phone is constantly ringing. The costume rack is at her disposal.
Pirates…anyone? The directors and the janitor are trying to kick her out, but she is setting up housekeeping right before their eyes. She goes swimming—on stage! She orders Pizza—it's delivered!
Dysfunctional? Yes! But, there is a surprise ending! As the chaos ensues every audience member will recognize someone they know or even dysfunctional parts of themselves. Cookies are served to the entire audience during the show introducing the ancient art of "cookie therapy".
Mila Johansen has written more than fifty plays and musicals that circle the globe. She is the author of two theatre books, "101 Theatre Games" and "50 Scenes To Go."
Mila's inspirational roots came from her grandmother, Jessie Haver Butler, who was a famous suffragette and the first woman lobbyist at the U.S. Capitol in Washington D.C. Jessie taught Eleanor Roosevelt the art of speech making and lectured all over London with George Bernard Shaw. Tagging along with Jessie in her later years, Mila was introduced to several Hollywood celebrities who sparked her acting career, including Marlo Thomas and Jane Fonda.
Mila is the founder and Artistic Director of The Nevada County Performing Arts Guild which is an award winning theatre company entering it's 25th year of producing three major productions a year.
On a more earthy note, Canadians may be more familiar with the name Johansen for the Organic Satsuma Mandarins that Mila and her husband grow, pack, and send in massive amounts to British Columbia and points beyond each year. "Our biggest market is in Canada. They buy the most fruit of anyone. We love the Canadian market and the Canadian truck drivers."
Some of the many other hats Mila wears are organic farmer, certified herbalist, actor, dancer, singer, choreographer, director and mother.
Full Blast is available to other theatre companies.  A dream come true for any actress over age 35.
Even though Mila is playing the part of Victoria at both Fringes, she didn't write the play for herself.  She realized there are very few wonderful plays written for women over forty and created this piece for every woman--any size, shape or color.  For more information contact Mila at johansen@gv.net or 530-477-5575.
Full Blast part of the 23rd Annual Victoria Fringe Theatre Festival
Victoria Performance Dates and Times
Friday, August 28, 6.00
Saturday, August 29, 4.15
Sunday, August 30, 9.30
Wednesday, September 2, 6.15
Thursday, Sep 3, 8.00
Sunday, Sep 6, 3.30
Venue 7 - Victoria College of Art and Design Gallery at UCW (950 Kings Road)
Tickets: $9 General, $7 Students/Seniors (250) 383-2663 or purchase online.
Full Blast part of the 25th Annual Vancouver International Fringe Festival
Vancouver Performance Dates and Times
Thursday, Sept 10, 7:00 (½ price performance)
Friday, Sept 11, 10:25
Saturday, Sept 12, 8:40
Wednesday, Sept 16, 5:00
Saturday, Sept 19, 10:45
Sunday, Sept 20, 4:35
Venue False Creek Gym, 1318 Cartwright Street, Granville Island
Tickets: $10.00 Weekdays, $12.00 Weekends and can be purchased online.