A Most Unimportant Criminal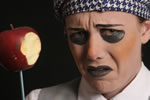 Company: 
Colette Nichol (Vancouver, BC)
Venue 3 Conservatory of Music, Wood Hall (907 Pandora at Quadra)
After an untimely death, Our Heroine, a pleasure-loving atheist with a history of nymphomania is yanked into post-mortem litigation, finding herself at the mercy of her fame-obsessed defense/prosecution lawyer, Earth's love-starved Planet Management Executive, and her tea-toting great-granny, among others. Colette Nichol plays eight neurotic characters in this absurdly comedic story of peace, lust and chaos. www.unimportantcriminal.yolasite.com
SHOW TIMES
THU, AUG 27 8:15 PM
SAT, AUG 29 5:30 PM
SUN, AUG 30 2:00 PM
THU, SEP 03 9:45 PM
SAT,SEP 05 2:30 PM
Sun, SEP 06 7:15 PM
Read the PLANK Review.